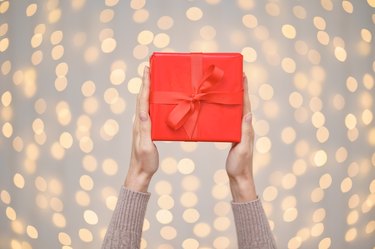 So, you've been invited to a holiday party and told to bring a gift for a Chinese Christmas game. If you have no idea what that means, fear not – you're not expected to track down an authentic gift from Beijing. It's just one outdated name for a popular kind of gift exchange game that's fun to play at Christmas parties. Sometimes, people bring nice or useful gifts to a Christmas exchange, but some groups play with funny or even terrible gifts. Make sure you know the vibe of the gift exchange before shopping.
What's a Chinese Christmas Game?
These days, holiday parties often include a version of the gift exchange game. The rules are generally pretty simple. Everyone brings a wrapped gift that's within a certain preset price limit, usually somewhere between $10 and $50. Players pull numbers out of a hat to determine their order. The first person chooses any gift to unwrap. The second person can take the first person's gift or choose a new one, and so it goes, with the following players stealing or opening new gifts until everyone ends up with something.
This game is known by a lot of different names. Maybe you grew up calling it "dirty Santa" or "white elephant." In a famous season-two episode of "The Office," Michael Scott calls the game "Yankee swap" while forcing his employees to play, which naturally devolved into chaos. Some people have called this the "Chinese Christmas game." Note that Christmas isn't widely celebrated in China, and there aren't traditional Chinese games associated with the holiday. The name was probably inspired by anti-Asian bigotry, so stick with calling this game "white elephant" or "Christmas exchange" when inviting people to participate.
Traditional Christmas Exchange Gift Ideas
Gift exchanges can be tricky when they involve a large group of people with different preferences and personalities. You want whatever you choose to appeal to a wide range of tastes. Things like candles, gourmet coffee or chocolates, handheld games, coffee table books or gift cards are some appropriate Christmas exchange ideas for co-workers or any group you don't know well. A nice mug, puzzle or throw blanket are also good gifts during cold winter weather.
Naturally, the group for which you're buying will affect what you consider a good gift. The better you know your fellow players, the more you can tailor your choices. If you're doing a Christmas exchange with your extended family members, you might choose things that are more personal to the group. Think of things like a framed print of your family tree or a case of the beer that all the cousins love. If you're doing an exchange with a group of fellow foodies, you might put together a basket with a bunch of unusual condiments or interesting snack foods from other countries.
Funny Christmas Exchange Gift Ideas
Having everyone bring a gag gift can make your Christmas exchange a hilarious affair. There's nothing like watching people play fight about who gets to take home the pickle-scented lip balm to get the holiday started. Opt for something that's silly but also practical, like a blanket that's designed to look like a huge tortilla, a pair of socks covered in mustaches or a thumb drive that's disguised to look like a real thumb. Gifts that come from the "as seen on TV" section of a big-box store can also make good gag gifts for an exchange.
Just be extra careful about encouraging funny gifts when you're thinking about Christmas exchange ideas for co-workers. Some people might cross the line into inappropriate territory. If someone from HR unwraps an "adult" item or a mug with a crude political message, you won't need Christmas exchange ideas for co-workers next year because party games will probably be off limits at future work events.