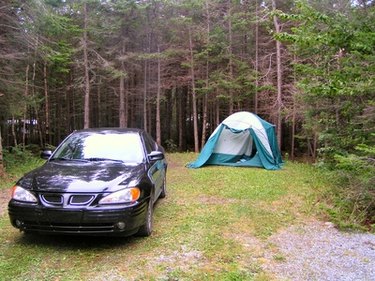 If someone you know is going camping soon or simply loves camping, make him a gift basket that will be useful on his next trip. Try to theme the basket around one aspect of camping, or create one that has a random assortment of camping items. Gift baskets are fun to make, because you can include lots of little gifts that add up to an awesome big gift.
First Aid
Create a first aid kit for the campers you know to use when they are out in the woods. Put all the items in a plastic container or something that they can take with them. Include such necessities as different-sized bandages, antibiotic ointment or spray and gauze pads. Put some medications in there as well, like a painkiller, an antihistamine and one for nausea. They might also need other items, such as tweezers, scissors, a thermometer, rubbing alcohol and a one-time use hot and cold pack.
Food
Make sure the campers have all the things they need to eat out in the wilderness. Place all your items in a large bowl or a cooler. Purchase a couple pots and pans they can use over an open flame. Include metal plates, bowls and eating utensils, or you can choose paper or plastic. They'll also need cooking utensils, such as tongs and long-handled spoons. Put some long metal skewers in the basket as well, which can be used for roasting hot dogs or marshmallows. If the camper is heading out on her trip soon, include some nonperishable foods as well. Consider adding energy bars, boxes of snack crackers, nuts, canned drinks and a bag of marshmallows.
Necessities
Give them a gift basket filled will all the random items every camper needs. Include a couple heavy-duty flashlights, along with extra batteries. Place plenty of sunscreen and bug repellent in the basket. Don't forget the matches, utility knife, warm blanket and radio. A couple reusable water bottles are also good items to place in a camping gift basket.
Fun
If they have all the camping necessities, fill a basket with fun items they can use while they are on the site. Include a pack of playing cards, dominoes and a board game. A battery-operated DVD player and some movies are good for rainy days when they are stuck inside the tent. Include some books as well. If they are going camping with a loved one, give them some plastic champagne flutes and a bottle of bubbly. For a trip with the guys, include a six-pack of specialty beer.