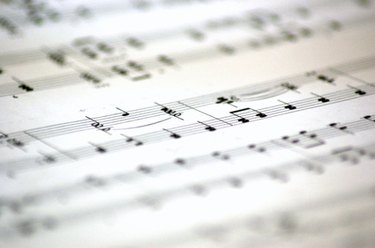 Church choirs, school choirs, community choirs, professional chorales, mixed voice choirs or gender-segregated--whatever the group, all the members of a choir share a love of music and the joy of song. Whatever the choir's venue, members come and go over the life of the choir. Choir anniversaries can be an ideal time to celebrate friendships, past performances and members old and new.
Involve Alumni
Invite former choir members to return for your anniversary celebration and sing with the choir. Choirs sing many of the same songs from year to year, and choosing a few that are a regular part of the repertoire should not be too difficult. Plan a short practice session before the celebration performance so everyone can warm up their voices and run through the music. Be sure to plan time for everyone to visit and catch up, too.
History in Pictures
If your choir takes pictures of members during the year, build a collage of past years and events. Post the collage as part of the celebration and take time to recognize members. You might have the MC call out the various years in the choir history and have members stand when their choir year is called.
Take pictures of each year's choir members during the celebration so you can add them to future celebration collages. Someone could write a choir history to go with the collage.
Anniversary Concert
Plan a formal concert for the anniversary celebration. Your program might include old choir favorites, some totally new songs or a combination of the two. Showcase the voices of your members in solos and groups of all sizes.
Charge a door fee and use the funds to buy new music, new sound equipment or other needed items. Include a reception following the concert so that audience members can talk to choir members and share their thanks. You might even consider recording the performance and selling CDs to commemorate the event.
Choir Trip
Take time for a choir trip or tour in conjunction with the anniversary. You can schedule several venues for traveling performances or just spend the time getting together and singing for fun. You might schedule a trip together to attend a musical event, even if choir members are on stage.
Choir Workshop
Bring in a special guest artist to work with the choir. Have the choir sing back-up for the artist. Work on technique and other skills you may not have time to focus on during regular rehearsals. Your workshop might take place at a retreat center where members can enjoy a change of place and pace.
Choir Dinner
Bring food and enjoy the company of other choir members and their families. Sing karaoke, play games, swim or find other activities members will enjoy. There's no pressure to perform here; this event can be a way to simply enjoy being a part of the group.