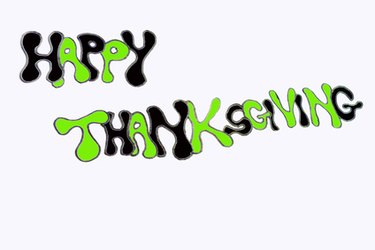 As Thanksgiving rolls in at the end of November, you may be busy stocking up on Indian corn and husk dolls and reserving that turkey at the grocery store. Before you get completely involved with defrosting and basting, plan out your Thanksgiving newsletter. It may be something as simple as a single one-sided piece of paper or a multi-page booklet full of news and information. With a little planning, you'll give your readers something they'll truly be thankful for.
Language Lesson
If you've got a thin column of space to fill in your Thanksgiving newsletter, consider giving your readers a short language lesson by teaching them to "give thanks" in other languages. With the column split in two, you can have one section citing the actual language (such as Apache) and in the section next to it, the translation (ihe edn). Some of the lesser known languages, such as Bemba, Fijian, Piedmontese, Xitsonga and Yumpla Tok, in which Thanksgiving translates to Tskikomo, vinaka, Grassie, Ndza nkhensa and eso po ya, respectively, can have readers discussing the symbolism of the words and provide a new way to say thanks.
Multi Culti
While your readers are steeped in American Thanksgiving traditions such as pumpkin pie, turkey and pilgrims, the newsletter can be a way to introduce them to thanksgivings in other cultures. Many readers may not know that other countries do celebrate their own version of Thanksgiving and the celebrations even have a number of similarities. In Germany, for example, the first Sunday of every October brings Erntedankfest (which translates to Harvest-Thanksgiving Day), a church-related holiday to end the harvest season. Germans take to the streets with parades, pageants, dances and parties, with different regions featuring the bounty of their crops, such as cider and grain. Include information in the newsletter comparing traditions, such as the American breaking of the turkey's wishbone for good luck; in Germany, sheaves of grain are left unharvested in the field so that they may bring a plentiful harvest in the next year.
Recipes
Recipes may seem like a generic thing to include in a Thanksgiving newsletter but you can pique your readers' interest by veering off the traditional pecan pie path. Instead, your readers can glean information on using their leftovers in some incredibly creative ways. Websites like AllRecipes let you input an ingredient (such as pumpkin) and report back with a large collection of suggestions of user-entered recipes that include that ingredient. You can also visit specialty sites such as Delish, which offers a page with "12 Weirdest Pumpkin Recipes." Your newsletter can wow readers with a recipe for curried pumpkin and peas, pumpkin-seed guacamole, pumpkin-seed pesto, pumpkin cannelloni, or pumpkin goat cheese cheesecake and, for those chefs who have been in the kitchen a little too long, a pumpkin facial mask.