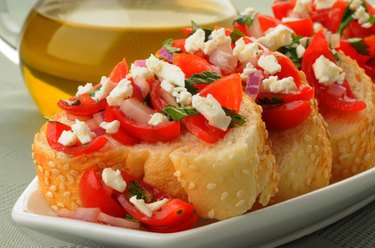 Planning an appetizer menu can be difficult, especially when planning it light. Many go-to appetizers out there are fried or smothered in cheese. However, there are dozens of light and tasty appetizers that can be served as a sit-down appetizer or as a standing-room finger food that are healthy for the heart and won't completely fill the stomach.
Caprese Salads
Caprese salad is the classic Italian summer-flavor salad of three ingredients; tomato, mozzarella and basil. The combination is light and refreshing and makes a great appetizer whether served as a plated salad or as a finger food appetizer. For a plated salad, slice the tomato and mozzarella to medium thickness and layer or overlap, alternating with basil leaves in between. Sprinkle with salt and pepper and drizzle with olive oil. For finger food, skewer one cherry tomato, basil leaf and miniature mozzarella ball on a toothpick and serve on a platter.
Bruschetta
Bruschetta is the name given for appetizers of grilled garlic bread topped with olive oil, salt and pepper. After that, virtually any variation can be made to it, including topping with a mixed tapenade or classic tomato salad, cured meats, cheeses, fruits and herbs. The most common bruschetta served outside of Italy is topped with a tomato salad made of diced fresh tomatoes, raw onions, chopped basil, garlic, olive oil, salt and pepper.
Antipasto
A proper antipasto is an entire appetizer tray in of itself. Antipasto, meaning that it does not contain pasta, is similar to the French charcuterie platter. An antipasto platter can contain cured and dried meats, including salami, prosciutto, pepperoni, cheeses, olives, sun-dried tomatoes, roasted red peppers, pickled artichokes, olive or hummus dips, bread sticks and crusty garlic bread.
Spiced Nuts
If serving nuts as an appetizer, avoid serving peanuts in order to keep the appetizers light. Spiced and dry roasted almonds and walnuts make great healthy, protein-packed appetizers. Spice the nuts with any variety of salt, cinnamon, chili pepper, garlic, coriander or cloves.
Dips
Dips are classic appetizers for most parties. Light dips include hummus, olive puree, artichoke dip and spinach dip. When making dips with cream ingredients, such as artichoke and spinach, go for the "light" options of sour cream and cream cheese. Serve the dips with raw vegetables, fresh pita bread and crispy pita chips.
Shrimp Cocktail
Seafood is usually viewed as a light option. Steamed shrimp ready for dipping in classic cocktail sauce, tartar sauce or spicy Asian dipping sauce is a classic yet sophisticated appetizer. Barbecued shrimp or shrimp sauteed in lemon and olive oil are also good appetizer options; serve them with toothpicks.
Gazpacho
Gazpacho is a cold pureed vegetable- or fruit-based soup. It is light and usually is served to whet the palate. Common gazpacho recipes include tomato, watermelon, cucumber, peaches, beets, cherries, peppers and varieties of herb and spice based flavors. Most gazpachos are smooth--the ingredients cooked and then put in a blender--but some include whole fruit or vegetable pieces.