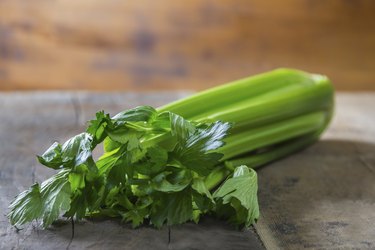 Celery brings a hint of freshness to heavy holiday buffets. When you serve it with indulgent dips, it still lightens the overall feel of the pairing. While it doesn't take long to prepare, even if you're serving a large holiday crowd, you can cut it in advance and keep it in the refrigerator for a day or two. Take the extra time to prepare it correctly so all your guests need to do is enjoy it.
Step 1
Cut both ends off the bunch and separate the stalks.
Step 2
Rinse the stalks thoroughly under cold, running water. Dry the stalks with paper towels or a clean kitchen cloth.
Step 3
Peel the back of the stalks, or ribs. Use a vegetable peeler, just as you would peel a carrot. Peeling is not necessary, but it does remove the stringy portion that sometimes deters people from eating the vegetable raw.
Step 4
Cut the raw ribs into sticks for dipping. If you prefer, slice the stalks into quarters lengthwise to make thin dipping sticks. Dice the stalks into small pieces for cooking or salads.
Tip
If you want to use the celery to garnish drinks, don't trim off the leaves but make individual ribs with leaves on top.
Warning
Like any vegetable, celery can carry pesticides and other undesirable contaminants. Wash it properly before eating.