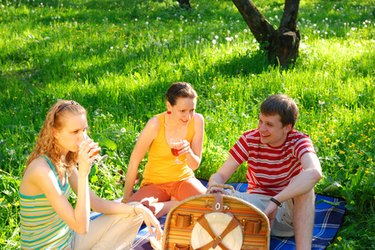 Traditionally a picnic is a casual meal served outdoors. If a cookout isn't included, the food comes to the picnic pre-cooked. When preparing a picnic for 50 people, consider how to prepare the food for a large group and how to store the food, prior to serving.
Fried Chicken
Cold fried chicken is the classic picnic food since it does not require silverware or a plate. Unfortunately, cooking up a batch of homemade fried chicken, for a large group, is a major task. One solution is to order fried chicken the day before the picnic, freshly prepared from the deli department at your grocery store. To avoid food poisoning, immediate refrigerate the chicken, and keep it cold prior to serving. Before you order a large batch of chicken, order a small batch, and see how well it refrigerates. Some fried chicken recipes refrigerate better than others do. The amount ordered will depend on the number of children and adults in the group, as well as what type of pieces you plan to order. For example, an adult might be satisfied with one breast, yet will need at least two chicken legs to feel as satisfied.
Salads
Salads that don't require tossing or the addition of dressing upon serving, such as coleslaw, potato salad and macaroni salad, are popular choices. Salads made with mayonnaise can cause food poisoning if the salad is not stored correctly, so look for salad recipes that don't require mayonnaise, or other ingredients that will quickly spoil if not sufficiently refrigerated. While you'll want approximately four ounces of salad per serving, the actual amount needed for your picnic will depend on your guest list.
Chips
Don't forget the potato chips. While potato chips might not be healthy, they are a handy food for picnics, which require no refrigeration, preparation, serving utensils or silverware.
Cupcakes
Cupcakes are the ideal picnic dessert. Each is an individual serving, and does not require a plate or fork to eat. Baking cupcakes at home for a group of 50 is a manageable task. Instead of baking the cupcakes at home, another option is to order cupcakes from a bakery. When making cupcakes at home, or picking up cupcakes from a bakery, order a variety of flavors. Make enough for everyone to have at least one cupcake, and if your budget and time permits, bake a few extra for those who would enjoy seconds.