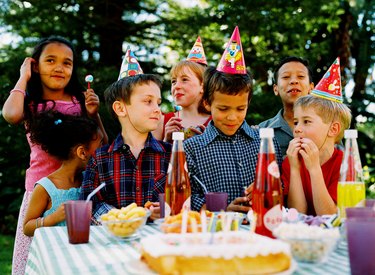 Celebrate the 11-year-old birthday boy or girl with a party that everyone will enjoy. Base the theme on favorite activities that the youngsters enjoy, including games, music, sports, TV shows or movies. This is an age group that is full of energy. An activity-filled party will keep everyone entertained and busy. Yummy foods, exciting activities and bright party decorations will set the stage for a cool party.
Combination Parties
Host a summertime pool party at a community recreation area, at a motel or at home to keep a group of 11-year-olds busy and entertained. Bring out the beach balls, pool toys and sunscreen for a happy few hours. Activity with a Nintendo Wii game challenge is exciting for girls and boys during winter or rainy-day parties. Entertain the group with dance or sports games for an afternoon of fun. Plan an adventurous and rewarding scavenger or treasure hunt. A relay circuit of three to six funny games, including balloon volleyball and plastic bottle bowling, will be enjoyable. Invite a group of girls and boys to the cool skating rink in the area for an afternoon of skating, music and food.
Girl Parties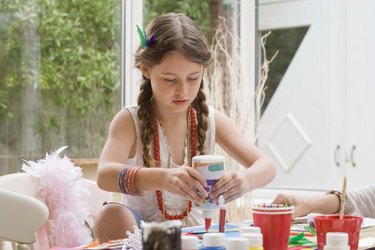 Themed sleepovers are cool parties for 11-year-old girls. Treat them to videos and lots of delicious foods that the birthday girl can help choose. Keep them active with board games, Or with Twister and karaoke. A spa makeover party with takeaway favors of inexpensive nail polish, emery boards and treats will top off a successful event. Gather supplies for a crafting party for a group of girls who enjoy painting, scrapbooking or jewelry making. Decorate cool T-shirts or fashion friendship bracelets for the young ladies to take home.
Boy Parties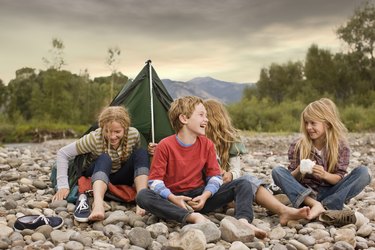 Give the 11-year-old boy an action-based party with activities that he enjoys most. Outdoor games with Super Soakers, laser tag, miniature golf or paintball will keep the boys busy until it's time to fuel up on pizza and cake. Book a two-to-three-hour winter birthday party at a popular bowling facility. Purchase tokens for the boys to spend at an arcade under the watchful eyes of a few adults for a portion of the party. Set up a campground experience with an adult-supervised bonfire in the backyard for an overnight birthday party for the more adventurous boys.