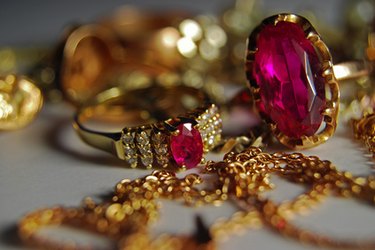 A 16th birthday is a momentous occasion, as it marks the coming of age. Although your daughter will always be your little girl, this birthday marks her transition from childhood to young adulthood. Let the birthday girl know how much she means to you with a special gift for this milestone birthday.
Jewelry
Give your daughter a special piece of jewelry to commemorate her 16th birthday. A bracelet or ring that features her birthstone is ideal; small stud earrings with her birthstone or diamonds also make wonderful keepsakes Another option is a locket with her birthdate and name or "Sweet 16" engraved on it–place a baby picture and a current picture of her inside. Whatever you choose, your daughter will always think of her parents and her 16th birthday when she wears this special gift.
Spa Day
Pamper your daughter on her 16th birthday with a day at the spa. Purchase a gift certificate so that she and her friends can go together or take her yourself to enjoy some quality mother-daughter time. While at the spa, she can get a pedicure, manicure, facial and a massage.
Scrapbook
Take a trip down memory lane and make your daughter a scrapbook that documents the past 16 years. Dedicate a page or two in the book to each year of her life. Include pictures of some of the important events–her first picture, her first steps, her first day of school. Since the book is being given as a gift for her 16th birthday, you will not have any pictures of this event. Create a page with the caption, "Happy Birthday Sweet 16" or another appropriate saying and leave spaces for her to display pictures from the day.
A Car
If you do not have budget restraints, your daughter will certainly appreciate receiving a car for her 16th birthday. It is on this birthday that she will either get her learner's permit or license, so a car is an appropriate gift. Whether it is pre-owned or brand new, she will enjoy driving her new set of wheels and will remember your generosity for a lifetime. If a car is not an option, an engraved silver keychain also serves to mark this aspect of her birthday.