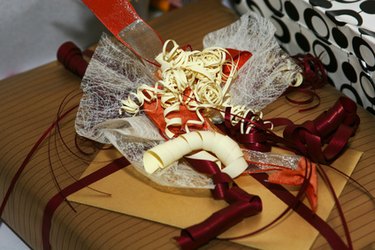 An "around the clock" bridal shower is a celebration where guests are assigned to bring gifts for the bride that she can use at different times of the day. If you've been invited to this type of shower, there are a number of gifts you can present to the bride-to-be that she can enjoy morning, noon or night.
Morning Gifts
Choose gifts like bath robes, slippers, or over-sized bath towels for the bride if you're giving morning gifts. You may also want to present her with an alarm clock that plays soothing nature sounds if she's not a morning person, or a gift card she can use at her local coffee shop. Bath salts and lotions in invigorating scents like verbena and bergamot are morning gifts that the bride can take an energizing shower with. If she enjoys going out for a morning walk or jog, purchase a comfortable pair of tennis shoes for her, or record a mix of songs that she can listen to while exercising.
Afternoon Gifts
By the middle of the day, the bride-to-be may be running errands, trying to finish up projects at work, or getting together meal ideas for dinner. If you've been asked to buy an afternoon gift, consider purchasing some gift cards or a coupon book to local grocery stores. Dessert or salad plates in the bride's favorite color, or in the china pattern she's chosen, are appropriate mid-day presents as well. A gift certificate for a lunchtime spa treatment like a manicure or hand massage can also be added to your present to give the guest of honor the pick-me-up she needs to continue her day stress-free.
Evening Gifts
Cookware items are frequently given as evening gifts for around the clock bridal showers. Purchase a set of quality pots and pans for the bride, or a kitchen appliance such as a mixer or food processor. Cookbooks are a helpful and welcomed gift, so that the bride can try new recipes each night for dinner or dessert. Or give the bride-to-be some items that will help her to relax after a long day, such as a set of her favorite DVDs, or monogrammed bed linen. It's also a good idea to give evening gifts that the bride can use with her new husband, such as a gift basket filled with cheese, crackers and fine wine, or an assortment of massage oils and a book explaining massage techniques.