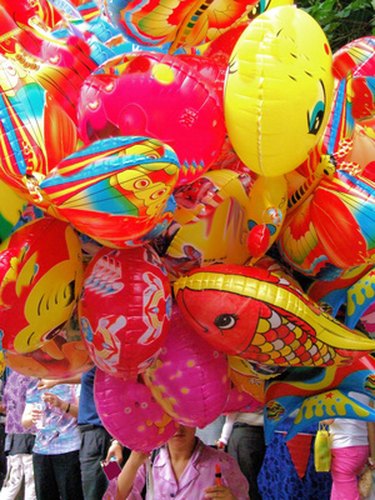 Nineteen-year-olds can be difficult to throw birthday parties for. Your teenager may think that she is too old for a themed birthday party, yet still want her birthday commemorated in some way. While games and decorations that may have worked for younger children (pin the tail on the donkey, go fish) are definitely out of the question, options still exist to throw your 19-year-old a birthday party he will never forget.
James Bond 007 Party
Years after his creation by Ian Fleming, James Bond is still the master of cool. For a James Bond-themed party, have guests come in costume. Tell them to think outside the box; not everyone has to come as Bond. Numerous Bond villains have great, distinctive costumes, as do the Bond Girls—and, of course, the ubiquitous Miss Moneypenny. For decorations, find vintage movie posters and film stills. Water guns can make the basis for an excellent centerpiece. The Bond movies have a history of great music. Not only is there the theme song, but there are also soundtracks to each film. Pick your favorites and mix them up.
Masquerade Party
Who's who? At a masquerade party, it can be hard to tell. This party works best in the evening. Have guests come in their best suits and dresses, complete with masquerade masks. Have several on hand for guests who have forgotten theirs. You can make a game of identifying who is who, with a prize for the person whose disguise is the hardest to crack.
Casino Party
A casino party can work great on its own, or in combination with a James Bond theme party. Here, you can set up a variety of games for your guests. Remember, they're still under 21, so make sure they're not betting money. Poker chips or even pieces of candy can work well for games like poker and roulette. Have prizes on hand (gift cards work well here in different denominations) for which guests can "cash in" their chips at the end of the evening.
Hollywood Party
Try a glamorous Hollywood party. This can work as a general theme, or you can make it even more specific by choosing a particular decade—Hollywood in the 1950s, for example, where guests can dress as characters like James Dean or Marilyn Monroe. Lights, cameras and film make excellent decorations for this kind of party, as do replica Hollywood signs.