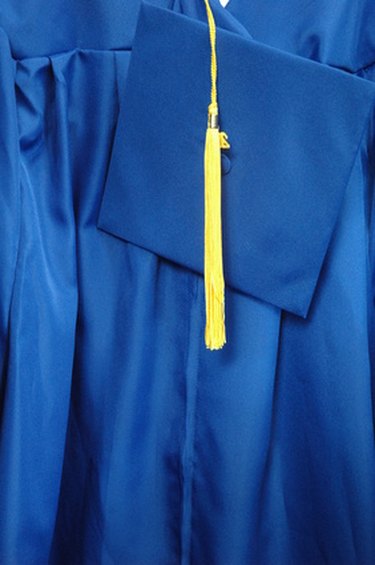 High school graduation parties are a time for fun and memories. Age-appropriate games during a graduation party entertain the guests and often help to create lasting memories of the occasion. There are many entertaining party games that incorporate the use of graduation themes and ideas, while requiring minimal advance preparation and supplies.
Guess the Teacher
This entertaining game calls upon the participants to remember their teachers. For each guest, a teacher's name is written on a sticky name tag. This tag is then placed on the guest's back without the guest seeing the name.
Throughout the night, the guests have to ask each other yes or no questions about the name on their back, and the goal is to correctly guess the name of the teacher, according to Graduation Invitation and Graduation Party Ideas. The first person to guess the name wins, but the game continues until each person has correctly figured out the name on the tag.
Graduation Pictionary
This twist on traditional Pictionary is easy to play and a fun way to add graduation themes to a game, as stated by Divine Dinner Party. Create a list of at least 40 words or thoughts that deal with graduation, education or school, and write each term on a small piece of paper.
Divide the party-goers into two groups, and begin the game by having one person from each team draw a term from the list. The person who picks the piece of paper then draws as his teammates guess what is written on the paper. The team receives a point for each correct guess, and the team with the most points wins.
Pin the Tail on the Teacher
This comical twist is a more mature version of Pin the Tail on the Donkey that is sure to keep the party guests laughing. As suggested by fun-theme-party-ideas.com, choose a picture of a teacher and tape the picture to a wall.
Depending on the guest of honor's choice, the picture can be of a favorite teacher or a disliked teacher. Beginning with the graduate, each guest is blindfolded, spun around and then has to "pin" an earring on the teacher's ear. The guest who pins the earring closest to the teacher's ear wins the game.
Match the Year
This game is entertaining and filled with nostalgia. Choose a table, and place a picture of the graduate from each year of his life, as suggested by Graduation Invitations and Graduation Party Ideas. This game can also be played using pictures taken solely during the school-aged years.
The objective is for the guests to guess when the picture was taken. Depending on the level of difficulty, they can either be asked to guess only the year, or they can be asked to guess the month and the year. The guest who most accurately identifies the time period for the greatest amount of pictures wins the game.