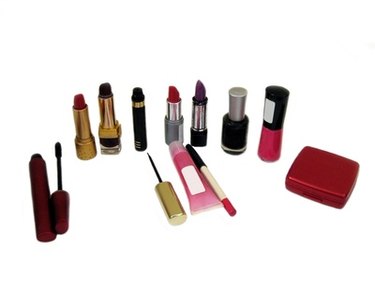 Birthday milestones mark a new era in a girl's life, and this is particularly evident once a teenage girl turns 16. Most will get their driver's license and perhaps a car, others will find part-time jobs and start thinking about college and a career. Make this sweet sixteen memorable for the birthday girl by planning a sweet sixteen birthday that she will remember long after the day.
Spa Party
Teenage girls are quite enamored with the idea of improving their appearance. Throwing a spa party is an inexpensive way to have an all-girl sweet sixteen birthday party. Collect nail polishes, emery boards, cuticle pushers and nail polish remover, so that the girls can give each other manicures and pedicures. Purchase facial masks, scrubs and moisturizers so they can do their own facial. Lots of pastel balloons, streamers and fragrant candles will be the only decorations you will need. Provide plenty of finger food and appetizers for the girls to nibble on while they are receiving their beauty treatments. You can also treat some of the birthday girl's best friends to a real spa, and then go out to a nice lunch or dinner.
Sleepover
A sleepover is an inexpensive way to welcome in a girl's sweet sixteen birthday. Ask her guests to bring their own sleeping bags if you do not have enough beds. Once it is time to go to sleep, it is typically more fun to have the girls sleep on the floor in the den or game room instead of separating them into bedrooms. Make sure the room has a door so they can keep out pesky brothers and talk about the important things in life.
Provide plenty of chick-flick movies to watch or have a stereo system set up for dancing and acting silly. Make sure you have plenty of food available for the girls to graze on all night long, such as pizza, chips and dip, cookies and brownies — but don't forget the vegetables; 16-year-olds are savvy these days and understand the importance of staying fresh young and healthy. They will need plenty of sustenance to stay up all night telling secrets and spooky ghost stories.
Elegant Night Out
Treat your daughter and a few of her closest friends to an elegant night out. You can rent a limousine to transport them to a fancy restaurant of the birthday girl's choice. Tell the girls to dress up and allow them to sit at a table of their own if you are accompanying them. The teens already think they are grown-ups so they will enjoy extending the special feeling. Afterward, take them to a teen dance club, a movie or another favorite attraction of their choice before returning them home. They will feel like Cinderella at the ball on this special night out. But offer them that chance to stay out past midnight.