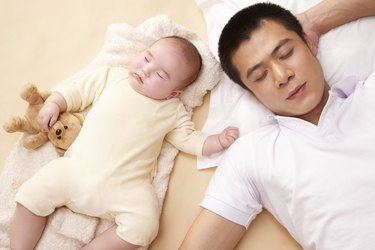 According to Chinese custom, a baby shower is given a month after the arrival of the baby. This is when the mother is allowed out of her room and able to have company. Because infant mortality rates in China used to be quite high, a newborn baby was traditionally not named or formally accepted into the family until this time. A month-old baby was more likely to survive, and this custom is still practiced today.
Money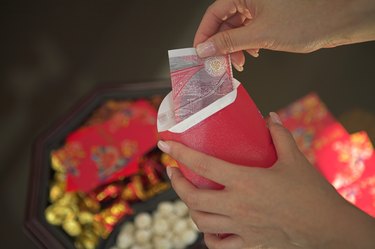 A traditional Chinese gift for baby boys is Lysee, or "lucky money," usually presented in a red envelope. Red is considered a lucky color in China.
Red Eggs and Ginger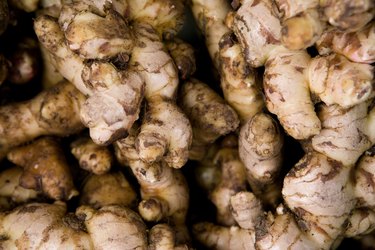 Red eggs and ginger are traditional symbolic gifts presented at a baby boy's celebration party. Eggs symbolize fertility and the renewal of life, while ginger will add a touch of "hotness" to the nutritional needs of the mother. Eggs are dyed red. Some believe that a boy is represented by an odd number of eggs.
Clinging Bracelets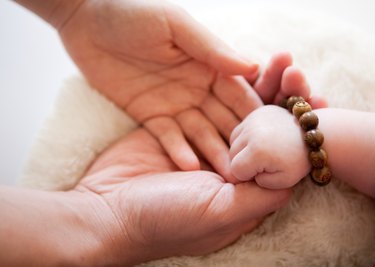 Traditionally, boys would sometimes be dressed up in girl's clothes to fool evil spirits. A bracelet for the boy will not be frowned upon, especially if it makes clinging sounds when the baby moves. The Chinese believe the sound of the bracelet scares away evil spirits. Coins are often stringed together in a bracelet and given to a baby boy to wear.
Clothing
Traditional and useful gifts to present to Chinese baby boys are clothing. The color red in clothing is considered lucky, as Chinese believe it will protect the child against infections and other evil. Tiger print hats, shoes and bibs are also popular traditional gifts. According to Chinese folklore, the tiger as the king of beasts, has a special power to protect children.
Quilt of Wishes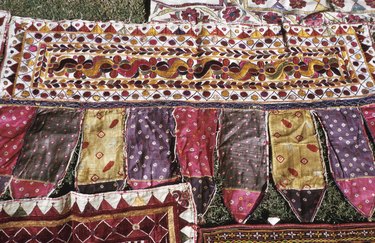 The Quilt of Wishes, or "Bai Jia Bei," is a Northern Chinese tradition to welcome a new baby boy. Friends and family will each contribute a patch of fabric, along with a wish for the new baby. A quilt is sewn from the patches to keep the baby warm and protected at night. In older customs, a patchwork coat was made to disguise the boy as a poor beggar to fool evil spirits.
Gift of Silver or Jade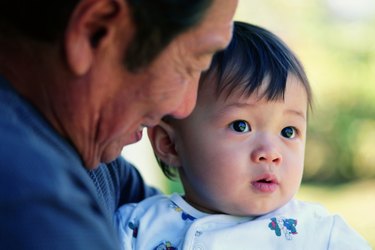 Close family, like grandparents, will traditionally give a new Chinese baby boy an item in gold, silver or jade to show their deep love for the child.