Things You'll Need
Balloon

String

Rice paper

Flour

Pin

Scissors

Wire

Hot glue gun

Thread

Christmas lights or light-bulb hanging fixture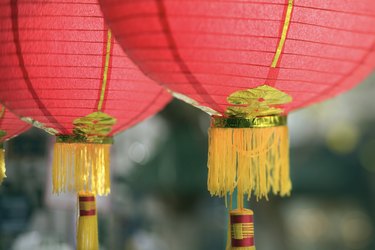 Round paper lanterns, with their soft moon-like glow, can change the atmosphere of any room. Traditional Chinese paper lanterns are used in many festivals during Chinese New Year and for other celebrations as well. Making your own lanterns is simple and gives you the creative freedom to choose their size, color and design. Once you have built a papier-mâché base, all you will need to add are lights, and you can set the mood for a lovely event.
Step 1
Inflate the balloon to the size lantern your desire. Hang it by a string so you can work around it on all sides.
Step 2
Tear your rice paper into strips 1 inch wide and the length of the balloon. The amount of rice paper needed will vary by balloon size.
Step 3
Create a papier-mâché glue solution by mixing equal parts flour and water. Stir the mixture until it has a smooth, batter-like consistency.
Step 4
Dip one strip of rice paper at a time into the glue solution. Remove excess glue by running the strip between two fingers before applying it onto the balloon.
Step 5
Smooth the strip lengthwise against the side of the balloon, making sure there are no wrinkles.
Step 6
Apply additional strips of paper, slightly overlapping their edges until the balloon is covered in one layer of paper.
Step 7
Allow the paper to dry completely before popping the balloon inside with a pin.
Step 8
Cut a small round hole on either end of the lantern using scissors. Remove all pieces of the balloon through the openings.
Step 9
Shape two wire pieces into a circle small enough to fit just inside each hole, and glue a wire circle inside each end with a hot glue gun. This will add support to your lantern. Glue a straight piece of wire across the center of each circle for hanging purposes.
Step 10
Attach thread or string to the top for hanging. Create a tassel to hang off the bottom of the lantern by bunching many same-length pieces of string together.
Step 11
Fill each lantern with a small bunch of white Christmas lights or use a light-bulb hanging fixture.
Tip
Use different colors of rice paper depending on your event. Chinese New Year lanterns are often red and marked with Chinese characters. Use extension cords to power your lantern lights outdoors.