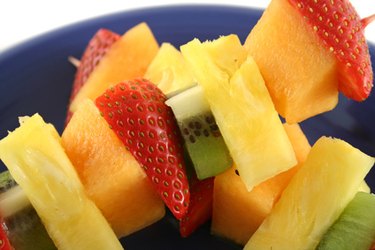 Planning a menu for a baby shower can be a challenge, especially when the party will have a large number of guests. Baby Center recommends serving several finger foods at a buffet to encourage people to mingle and try different dishes. This also ensures that all the guests will find something that they like. Experts have several ideas for baby shower foods that will satisfy everyone, including the mother-to-be.
Mini-Quiche
Mini-quiche is an easy dish that chefs can prepare the night before and store in the fridge until the party. Baby Center recommends mini-quiche for baby showers, especially for afternoon affairs when snacks work best. Many types of quiche dishes are available, but chefs should keep in mind the guest of honor and any pregnancy-related food preferences.
Fruit and Vegetables
Having some healthy refreshments on hand is a smart idea, and chefs can style it on the plate to make it more attractive for a baby shower. Baby Center recommends celery sticks for a shower; chefs can include peanut butter or a substitute and raisins to make kids-style "ants on a log." Nick Junior, which is Nickelodeon for preschoolers, recommends a fruit kabob recipe that involves placing fruit bites on skewers with a side of yogurt for dipping. Having a variety of fruits and vegetables on various platters can satisfy a large party.
Diaper-Shaped Sandwiches
For a snack that will make guests laugh, Pregnancy Today recommends diaper-shaped sandwiches. Chefs simply make egg-salad sandwiches--or whatever flavor pleases the guest of honor--and cut the top corners off to give them the shapes of diapers. Refrigerated sandwiches are easier to cut. To finish the look, chefs snap gold safety pins to the top corners. To make them snack-size, chefs can cut the sandwiches into four parts first and use small safety pins. Having lots of mini-sandwiches instead of a few big sandwiches may help feed the large number of guests.
Alphabet Cookies
While cakes are traditional for baby showers, guests at a busy party will appreciate smaller sized desserts such as cookies. Using cookie cutters to cut cookies into alphabet letter shapes can enhance a baby-themed party. Family Corner website recommends cinnamon sugar cookies, but chefs can make several batches of different kinds of cookies and lay them on plates for guests to sample as they mingle.