Felt fabric has many uses and is often chosen for craft projects. The University of Missouri Extension explains that felt is not a woven material but a fabric that is made of fibers that are processed through heat and pressure. Felt can be made of wool, acrylic fibers or other materials.
Padding
Felt provides a soft cushion on the bottoms and backs of such items as vases, plaques, picture frames and lamps. The felt helps to prevent scratches and can even provide a bit of traction so that the item doesn't slip around so easily. A felt backing offers a finished look to items of this nature.
Practical Uses
J & O Fabrics suggests using felt for stand-in chalkboard erasers when a regular one is not available. Standard erasers of this sort are made of felt. They also suggest using felt as a cloth for polishing metals. For collections of fine china, felt can be cut into squares or whatever shape needed and placed between plates, cups and saucers to guard against breakage. Felt can also be used to make helpful items such as simple cases for eye wear and for key rings. Clutch bags made of felt can hold all sorts of sundry items that would get lost in the bottom of a large purse. One commercial use of felt is in felt tip pens.
Felt for the Holidays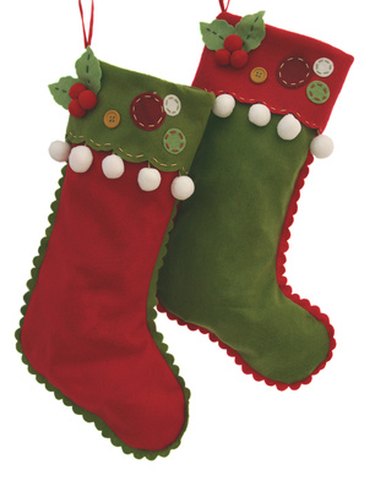 Crafters put felt to good use during the Christmas holidays. Felt tree skirts often grace the stand in which the holiday tree sits. These cover-ups can be decorated with contrasting cutouts of felt or other craft materials such as rickrack or beads. Christmas stockings made of felt can be a durable choice and can become great sentimental objects when used year after year. Ornaments for the Christmas tree can also be made of felt and shaped by tracing around Christmas cookie cutters.
Felt Boards
MarthaStewart.com suggests making felt boards. These boards offer children a manipulative toy as well as a learning experience. These boards are covered tightly with felt, and, because felt tends to stick to itself, shapes can be cut out of different colored felt and placed on the felt board. Numbers and letters help children practice counting and saying their ABCs. You can read stories and use felt cutouts to illustrate. Silhouettes of dogs, cats and other simple objects can be used.