Things You'll Need
Black construction paper

Scissors

White glue

Hot glue gun

Rocks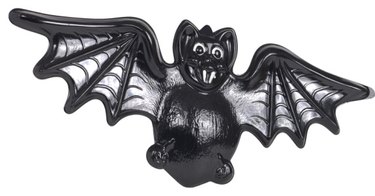 Whether you are planning a spooky Halloween party, you are just interested in bats and want to decorate your room, or you need a creative rainy- day craft project idea, you can turn an old shoebox into a dark and creepy bat cave with a few craft tools and decorating supplies. Projects like this make use of would-be trash items such as shoe boxes. Children can get involved, too, with adult supervision, to use their creative skills and participate in this eco-friendly craft.
Step 1
Cut four sheets of black construction paper into strips. The strips can vary in size, around 1 inch wide each.
Step 2
Apply white glue to each strip and smooth it over the box. Overlap the strips to cover the box completely, both inside and out. Allow the white glue to dry for about an hour.
Step 3
Gather small rocks and pebbles from your yard. The sizes of the rocks do not matter, just gather enough to cover the inside walls of the box.
Step 4
Apply a dot of hot glue to each rock and press them inside the walls of the box to fully, or partially cover them. Cover the inside surface of the top, bottom and sides of the box. Place the rocks closely together to fully cover them, or spread them apart for thin coverage.
Step 5
Cut bat shapes from back construction paper, or use some plastic ones you have lying around. Apply hot glue over the bat feet to hang them upside-down from the cave ceiling.