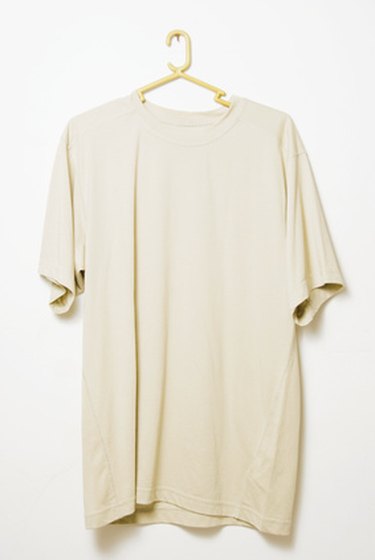 From pictures to quotes, designs on T-shirts are a way of expressing thoughts for both kids and adults. T-shirts are inexpensive and not too difficult to decorate with markers, pens and paint. Painting T-shirts with kids is not only an activity that passes time, but also lets your kids create a design that they can call their own. Your kids can wear their custom T-shirts around the house and out to events once the paint is dry.
Footprint Designs
Purchase fabric paint and white or colored T-shirts from your area craft or retail superstore. Place the T-shirts on three to four sheets of newspaper or plastic sheeting. Pour the paint in a plastic container or paper plate and use a sponge to apply paint to your kids' feet. Have your kids walk and jump on the T-shirts. Let them be creative and make borders or draw out a design with one toe. Let your kids sign the T-shirts, using a small paintbrush, once the design is finished. Hang the shirts on a clothesline or drying rack to air dry.
Fabric Marker Designs
Give your kids a set of fabric markers and let them design a scene on the front of T-shirts depicting their neighborhood, church, school or other element in their lives. Or have them spell out phrases like "My mommy or daddy deserves a pat on the back" or "I love my neighborhood." Let the shirts dry before turning them over and having the kids design an additional scene on the back.
Finger Painting
Purchase colored T-shirts and fabric paint in multiple colors including white. Lay the shirts in a row on a newspaper or plastic sheeting-covered table or floor. Let your kids start at one end of the table or floor and paint a scene from their favorite book, movie or computer game across the shirts with their fingers. Assign each kid a specific part of the scene to speed up the process. Once the T-shirts are dry, dress each of your kids in the shirts to see the complete scene.
Sponge Painting
If feet or finger painting is too messy or your kids, let them sponge paint one or more designs on a series of T-shirts. Purchase one or more stencils to inspire kids who are lacking for ideas. Get stencils containing their favorite animals or letter stencils so they can spell out phrases and words.
Glow-In-The-Dark Designs
Purchase a set of glow-in-the-dark fabric paint pens, turn off the lights and have your kids design a series of Halloween, Christmas or other holiday T-shirts. Let them use holiday stencils if they don't want to draw freehand. After the shirts dry, let them glue holiday embellishments, using a hot glue gun, on the shirts.