Things You'll Need
Pencil and paper

Canvas or duck cloth

Scissors

Rulers

Stencils, templates or card stock to make your own

Plastic sheeting or drop clothes

Acrylic paints, brushes and fabric markers

Iron and ironing board

Bias tape or quilt binding

Needle and thread or sewing machine

Grommets and setter (optional)

Fabric protector spray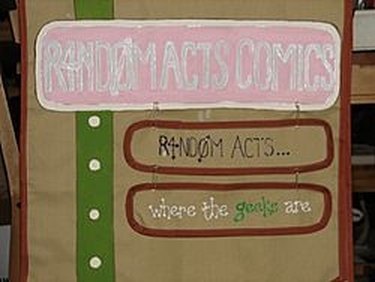 How to Paint a Fabric Banner. Banners are used for everything from birthday wishes and thank yous to supporting sports teams and signage for stores. Simple signs and banners are available from a variety of stores, but without options for customization. Custom banners can be ordered, but generally at a substantial cost. If you are creative enough to have an idea for a banner, you're creative enough to make it from cloth and paint--and ensure it's exactly what you want! Here are some ways to do it yourself.
Step 1
Sketch out your ideas on paper before moving to your cloth. The more specifically your designs are diagrammed, the easier they will be to transfer to the fabric.
Step 2
Cut your fabric to the size and shape you need, allowing excess for turning the edges under if you plan to hem it traditionally. Canvas, sometimes called duck cloth, is a very strong, even-weave cotton fabric, which makes it more than suitable for use as signs and banners; it also comes in a variety of colors available at most fabric stores.
Step 3
Transfer your design to the fabric with pencil or chalk, whichever shows up best on the background. Mark lightly and carefully and only what will be covered with paint. Use rulers, t-squares or triangles to keep your lines straight. Stencils and templates can be used for letters and basic shapes or make your own templates out of card stock or poster board.
Step 4
Protect your work surface by placing a plastic sheet, tarp or drop cloth under the fabric to be painted and the surrounding areas.
Step 5
Fill in large areas with brush and paint, working from the top down to avoid smearing. Smaller details and outlines can be done with finer brushes, but I find fabric markers or permanent markers to offer a great deal more control. Allow all paint to dry thoroughly.
Step 6
Set your paint by applying a low-heat iron to the back of the fabric. This step is technically optional, but it will ensure a tighter bond between paint and fabric.
Step 7
Seal the edges of your banner by either turning the edges under twice and stitching the hem down or attaching bias tape or quilt binding to the open edges.
Step 8
Attach tabs or grommets if your sign or banner will be hung. Banners that are draped over tables will not need any additional hanging hardware.
Step 9
Spray the entire banner with a fabric protector. Even a seldom-used sign is bound to have something spilled on it, so the easier it is to launder, the less damage your handiwork will suffer.