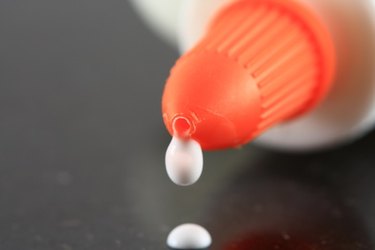 Hot glue is a strong and hot type of glue that is used to hold one or more things together. However, hot glue is not always the best adhesive option. For projects involving paper, mounting, fabric, or wood, hot glue may work as an adhesive substance, but it is not the best option. Alternatives to hot glue may not appear as strong, but they are often the better adhesive in given situations.
Spray Adhesive
Adhesive spray is a type of glue that is sprayed on items in the form of droplets. Adhesive spray can be substituted for other adhesives, such as hot glue or even tape. This is because there are different strengths of spray adhesives. While some are permanent, others are semi-permanent or temporary. Spray adhesive is unique because of the way it bonds two items together. According to 3M, spray adhesive can be used for art projects and crafts, such as scrapbooking, foil crafts, and model constructions. It is also strong enough to mount photographs and picture displays.
Liquid Glue
Liquid glue has the same texture as hot glue, except it is usable at room temperature. Liquid glue starts to work when the water has evaporated from the liquid. The glue then hardens and forms a bond. This type of glue is deal for objects that need to stick together, such as small wood pieces for figurines or paper cards with beads or pearls on them. It is also ideal for jewelry crafts. Keep an eye out for air bubbles when using liquid glue. If air bubbles are present in the glue, all of the water will not evaporate and the adhesive bond will not be as strong. Pop any air bubbles prior to gluing two items together.
Fabric Glue
Fabric glue is another alternative to hot glue, particularly when making crafts that involve delicate items, such as fabrics or jewelry. Fabric glue is also known as a fusible web, because the glue fuses two items together using a layer of adhesion. Fabric glue is a permanent solution, despite its flexibility. It comes in different textures, such as glue tape or adhesive sheets, which can be ironed between two sheets of fabric.
Double-Sided Tape
Double-sided tape is an alternative to hot glue, when it comes to paper projects and crafts. Double-sided tape is not the strongest adhesive when it comes to anything but paper. Although hot glue may be used for certain paper projects, it is not the best alternative because it can often leave the paper soggy and permanently floppy and disfigured due to the heat. Double-sided tape will leave papers flat and makes it a better alternative for scrapbooking or posters.