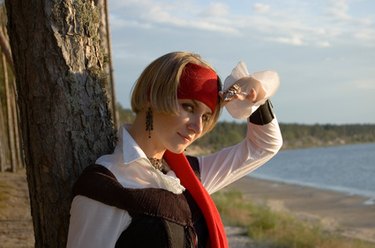 You might want to dress up in a pirate costume for Halloween, a child's party, or some other occasion. There are a lot of different looks you can go for as a female pirate. You can be a sexy pirate wench, a tough and in-charge lady pirate, or something in between. Whichever look you want, you can use a ready-made costume or put together a look of your own.
Wench
A pirate wench costume is made up of several main components. A low-cut blouse with long, puffy sleeves is an essential part of the look. Cover it with a bodice in a contrasting color, preferably one which laces up the front but allows the upper portion of the blouse to show above it. A skirt for the pirate wench costume can either be long and flowing with a slit up the side, or short and full. A matching scarf can be tied around your head in swabby style. A pair of tall boots, knee-high or higher, completes the look.
Captain
A female pirate captain's costume needs to have a commanding look. A captain's hat is the starting point for this outfit. A tri-cornered hat, with or without a feather, works well for this. The lower portion of the outfit is long black leggings tucked into tall black boots. The top half is a white blouse with a high neckline and a lacy jabot, covered by a rich-looking brocade jacket. The jacket should look like a pirate's coat, with over-sized cuffs and wide lapels decorated with brass buttons. Good colors for the jacket are deep red, purple, or black.
Mate
You can make a nice costume for a female pirate with a few simple items. Boots are essential, the taller the better. Big, loose pants that come about halfway down your calves can be cut to give an uneven look to the hems. Top your outfit with a white blouse with puffy sleeves. You can either use a red or black bodice over the blouse or tie a large red sash around your waist to brighten the outfit. Use a red sash or scarf on your head to complete the look.