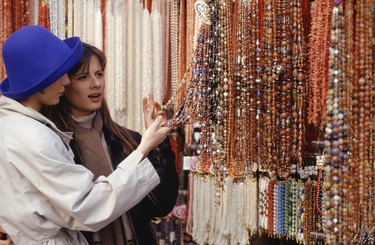 Sure you can make necklaces with beads, but these versatile craft staples can do so much more. Create your own sun catchers, wind chimes or crafty decor pieces using beads salvaged from old jewelry, from your own bead stash, or from the jewelry-making department at your favorite craft store.
A Play on Light
Translucent, colorful glass beads that are beautiful to look at up-close look even more stunning when light travels through them. String a series of glass beads from fishing line, tying the opposite end of the line to a piece of driftwood with an unusual shape for a sun catcher you can use indoors or out. Use a UV-resistant monofilament fishing line to help keep the line from breaking down in direct sunlight. For a similar project, tie hammer-flattened silverware to the ends of your bead strands, or use rings of glass cut from the mouths of bottles. Hang the strands of your wind chime from another repurposed object such as a metal colander or metal coffeepot lid. Use a drill and a narrow bit to create holes in the metal items.
Funky Faux Chandelier
Turn a series of Mardi Gras beads -- or any inexpensive bead strands -- into a funky light-free chandelier using a hanging planter basket, bike rim or even an embroidery hoop as the frame for your creation. Spray paint the materials any color you like, painting outdoors or in a well-ventilated area. Arc strands of beads across the bottom of the circular frame shape so they create an elegant curve beneath the frame. You may need to snip the bead strands to ensure they reach all the way across. Secure the ends of the strands to the frame with thin wire. Once the bottom portion is embellished, run more strands of beads upwards, covering the chain from the hanging basket. If using an object that has no hanger of its own, add a few thin chain pieces and hooks to create a secure hanger for the faux chandelier. Hang the faux chandelier from a porch, in the house or even from a tree branch for an air of elegance during an evening soiree.
Purposeful Pull Chains
A simple string or ball-chain pull for a ceiling fan or lamp may be a bit difficult to grab in the dark, and it's not anything special to look at, anyway. Jazz up that bland pull chain with colorful beads. Remove the pull from the existing string or chain; then run a series of beads up the chain. Use random colors, or stack beads of the same color, slightly fading shades for an ombre effect. Add a large, beautiful bead or pendant at the end in place of the old pull. If you're beading over ball chain, select beads that have wide openings.
Basic, Yet Beautiful, Bracelet
Make a bracelet from an assortment of beads using memory wire as the support structure. Decide whether you want one loop or several loops around your wrist; then cut the wire at the desired location using Memory Wire cutters. Bend a small loop at one end to hold the beads in place; then slide on any beads you like -- pick a color scheme to match a certain outfit or season, or make a pattern that alternates sizes -- rather than colors -- of the beads. Bend another loop at the end or glue on a memory-wire end cap to secure the beads in place. A choker-style necklace can also be made with memory wire.