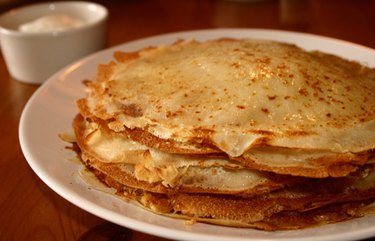 Breakfast with Santa appeals to kids of all ages. The community activity is often used as a fundraiser and appeals to families. Tickets are sold for the breakfast fundraiser ahead of time. If the event sells out quickly, consider having an early and late breakfast. You can make significantly more and since the venue and volunteers are already secured, it won't add too much work. Planning the menu is one of the most important parts of the event.
Santa Pancakes
Pancakes offer a child-friendly breakfast option for a breakfast with Santa event. With a large griddle, the pancakes cook quickly. Look for a venue with a commercial kitchen including a large griddle. You might also have the option of renting a large griddle from a party supply store. To connect the pancakes to the theme of the breakfast, decorate them like Santa's face. Banana slices work well for the eyes and ears. Place a chocolate chip in the middle of each banana slice eye. Add a cherry nose just below the eyes. A scoop of cherry or strawberry pie filling at the top creates Santa's hat. Finish off the pancakes with whipped topping beards and hat accents.
Scrambled Eggs
Scrambled eggs offer another easy and child-friendly breakfast option. You can make large batches of scrambled eggs ahead of time and keep them in warmers so they don't get cold. Ask local grocery stores for egg donations to save on the costs of this breakfast dish. Another option is to check with local farmers to ask for egg donations. The more you can save on material costs, the more profit you make on the fundraiser.
Doughnuts
Doughnuts work well at the breakfast with Santa because all of the prep work is done ahead of time. You don't have to worry about keeping enough cooked as the guests begin eating. Add a Christmas touch to the doughnuts to fit the theme of the fundraiser. One option is to use green and red sugar on the doughnuts. Christmas-shaped sprinkles work well on top of iced doughnuts. You can use either full-sized doughnuts, mini doughnuts or doughnut holes. Arrange the doughnuts on the tray in the shape of a Christmas ornament, Christmas tree or other relevant shapes. Ask local bakeries for doughnut donations to cut costs.
Hot Chocolate
Hot chocolate with peppermint stirring sticks makes a nice complement to the breakfast with Santa. The hot drink is often associated with Christmas time and appears in the popular Christmas story "Polar Express." Avoid serving the hot chocolate too hot since there will be lots of young kids at the event. Eggnog is an alternative beverage option that ties into the Christmas theme.