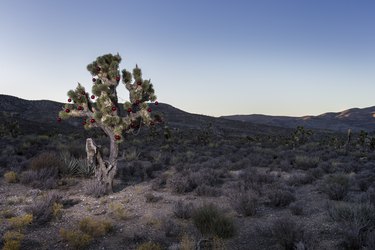 A western Christmas party is a creative choice for a down-home country-styled holiday celebration. With a focus on the traditional Old West -- or even a nostalgic country Christmas complete with horse-drawn sleighs and cheery jingle bells -- a Western theme can put a new and entertaining spin on your traditional holiday celebration. By using out-of-the-ordinary decorations or unusual costume requests you can start a theme that will have your family and friends talking about your homespun soiree for months to come.
Whether you decorate an artificial cactus "tree" available for purchase, or a large, real cactus, a cactus Christmas is a great way to bring a feeling of Western desert heat to a cold-climate Christmas celebration. Dress the cactus with white lights and fill the base area or pot with red and green shiny ornaments and tinsel. Hang more tinsel from the spines of the cactus, but be careful of the spines.
Decorate small, table-sized cactus plants for the food table and throughout the house to carry the theme and toss some small Santa hats on them to make them more festive for this western theme party idea. Serve up some Old-West favorite foods including prepared prickly pear to complete the theme.
A Western Christmas With Horses
Nothing is more beautiful or nostalgic than seeing a horse-drawn sleigh at Christmas time, and a holiday horse theme is a western Christmas theme everyone can get easily on board with. Decorate the house with horse-related items like horseshoes with bows attached to them, sleigh bells, and western saddles decorated with ribbons, bows and boughs of evergreen. Arrange for horse-drawn sleigh rides for guests and use miniature sleighs filled with candy to decorate food tables. Hang decorative horse ornaments on your tree and request that everyone bring a horse-related gift to share. Gift exchange items could include horsey ornaments, models or artwork.
Old West Character Theme Party
Invite your guests to come as their favorite Old West character, either fictional or historical, for your Christmas celebration. Have guests stay in character for the first hour of the celebration and ask them to participate in a Secret Old-West Santa with gifts that relate to their characters.
For example, guests could come as Wild Bill Hitchcock, Doc Holliday, Annie Oakley, Chief Crazy Horse, Geronimo, Bat Masterson, Davey Crockett or Wyatt Earp. Western theme party gifts that can be exchanged can be toy guns, sacks of play money and candy coins or shiny sheriff deputy badges; or, take the gifts up a notch by shopping for vintage penny old-west novels, old-time photograph reproductions or Tombstone shot glasses or other merchandise.
Rootin' Tootin' Cowboy Santa
Invite everyone to decorate his favorite (or inexpensive costume) cowboy hat for the Christmas holiday celebration. Provide a "Most Festive Cowboy Hat" prize for the most outlandish or highly-decorated hat. Use decorated cowboy hats on your front door to replace the traditional wreath, and hang cowboy hats and boots throughout your home to carry the theme. Add spurs if you have or if you can find them.