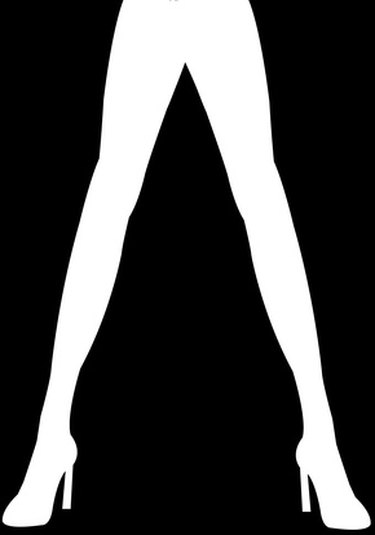 "Rocky Horror Picture Show" has gained a huge cult following throughout the years since its debut in 1975. With '50s-style songs combined with the theme of sexual exploration, fans of the film and the stage shows wear the looks of the film's characters for many different occasions. So if you're headed to a film screening or theater showing of the odd musical, refresh your memory on those "Time Warp" dance steps and let loose.
Dr. Frank-N-Furter
Tim Curry played the part of the mad scientist to perfection with his flamboyant, drag queen costuming. Throughout the film, the sex-crazed Furter wears several different outfits. His most famous is the black lingerie look seen during his debut in the film when he sings "Sweet Transvestite." For that look, you can combine a black corset vest with black thigh-high stockings, black garters, black gloves, white pumps, a necklace with chunky white pearls and tight black underwear. You also will want to get an appropriate dark brown wig, and put on generous amounts of white Halloween makeup as a base coat for your face. Add red lipstick, black eyeliner and eye shadow to emulate Curry's look in the film.
Brad and Janet
The film's innocent victims are clearly Brad and Janet, a newly engaged couple that emanate pure vulnerability and naïveté. If you want to dress up with your spouse, this is a good option. Brad and Janet have a few different looks to choose from; the first is perfect for a modest couple. Brad wears a simple beige coat with light gray slacks and thick, black-rimmed glasses, while Janet wears a pink and white outfit composed of a dress and loose sweater. If you feel more daring, you can wear the more risqué outfits that had Brad and Janet wear next to nothing. While Janet wore a simple white bra and slip skirt, Brad wore a white T-shirt with boxers.
Rocky Horror
Frank-N-Furter's hunky creation, Rocky Horror, came into the movie and drove all the characters into a sexual frenzy. If you feel confident wearing only a pair of gold underwear, and you have the body for it, dress up as Rocky. Find said pair of golden briefs, as well as a bottle of tanning spray and a short, bleach-blonde wig. You can also wear a fake muscle suit if you feel that your body doesn't adequately reflect Rocky's physique, or if you're just a little shy.
Columbia
The screechy voiced Columbia is just one of the many strange inhabitants of Frank-N-Furter's mansion. In the film, Columbia wears a colorful outfit that includes a sequined tube top, a gold top hat and tailcoat, and a pair of rainbow-striped shorts. You can also add to the look a red bow tie, black tap shoes and a pair of blue bobby socks. To top the look off, find a short, bright red wig that you can slick back just like Columbia does in the film.