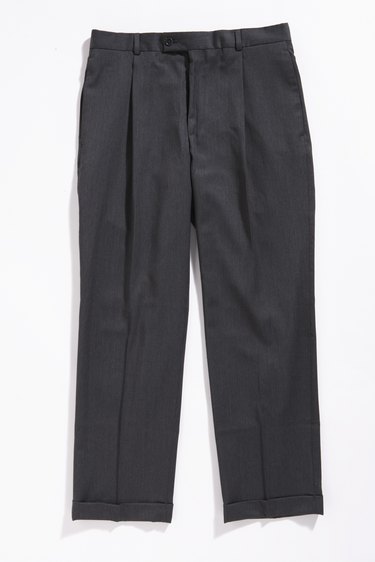 Black pants fade easily, especially with a lot of wash and wear. Your favorite dress pants are worn to parties, to work and on special occasions and may be in need of renewal. Getting them back to their dark, natural color is a fairly quick and inexpensive process and will save you a trip to the store for a new pair. Your wallet will thank you and you'll be back to feeling like a million bucks in no time.
Things You'll Need
Gloves

Dye

Bucket

Tongs

Large spoon

Mild laundry detergent
Step 1
Wet your pants in warm water in the sink or tub. Squeeze them out to remove excess water.
Step 2
Fill a bucket or sink with 3 gallons of hot water then add in 1 package of powder dye or 1/2 bottle of liquid dye. Wear gloves during this process so you do not stain your skin. If your sink is fiberglass or plastic, it's best to use a bucket as the dye will stain these surfaces.
Step 3
Place your pants in the dye water and stir them around with a pair of tongs or a large metal spoon. Swish them around every five minutes, and let them soak for up to 30 minutes depending on the lightness of the faded black the pants were.
Step 4
Empty the bucket and remove the pants. Rinse the pants out with warm water in the tub or sink, then switch to cool water. Rinse them until the water runs clear.
Step 5
Wash your pants in with a mild detergent on the gentle cycle in a warm/cool temperature. Let it run its cycle then hang the pants to air dry.