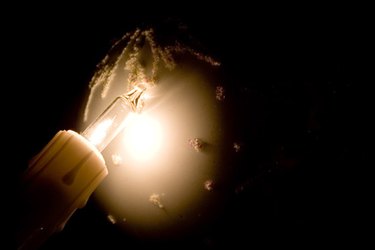 While many countries around the world celebrate Christmas, not all of them do it the same way. Creating Christmas crafts from other countries, like Mexico, can help your child learn about different cultures. These kinds of crafts also work well for students, especially younger ones too excited about the Christmas season to sit still and learn about anything else. They can move around, get messy and decorate the classroom all while learning and not even realizing it. During the craft time, discuss how you celebrate Christmas and how your celebrations are different from those in Mexico.
Piñatas
Traditionally, Mexican Christmas celebrations begin on December 12th with the birthday of the Virgin of Guadalupe. Some of these celebrations include breaking piñatas filled with small toys and candy. Help your children make a Christmas piñata with a balloon and some paper mache. Mix up a thin paste of flour, water and salt. Blow up a balloon and tear up some newspaper strips. Dip the strips into the mix and cover the balloon with them, except for the knot. Pop the balloon after the paper mache dries, cut out the knot area and fill the balloon with small candies, little wind-up toys, tiny paint sets and bundles of colored pencils. Stop up the hole with a piece of self-hardening clay through which you've strung a sturdy cord. Have the kids paint the piñata like a Christmas ornament or help them paint the Nativity scene or a Christmas trees on it. Have the kids break it open on December 12th.
Poinsettia Crafts
Mexican legend says that the first poinsettia sprouted from a gift of weeds given to the Christ child by a little girl. Mexicans today grow these tropical flowers and decorate with them during the Christmas season. Use these beautiful red flowers in Christmas crafts that are popular with girls. Make the poinsettia out of petals cut from red paper or pull apart a silk poinsettia flower. Glue the petals in a double-layered circle around a small cardboard circle that you've painted gold. Glue a small barrette clip to the back of the cardboard circle and clip it in your girl's hair.
You can also make poinsettia bracelets; silk flowers work best for this since they don't tear or crumple easily. Cut apart the petals and tie a piece of elastic string into a circle. You can also use covered elastic hair ties for this. Wrap the bottom edge of each petal around the elastic and glue it into place so that when your child puts it on it looks like a flower is circling her wrist.
Los Luminarios
Many Mexican families decorate their homes with luminarios, or luminaries, much the same way families in other countries put up Christmas lights or place candles in their windows. Most families create luminaries to illuminate the edges of their driveways and property, while some villages line the streets with them, too. To help children create their own luminaries, you'll need several dozen white paper bags or several dozen rinsed and dried gallon or half-gallon milk jugs. Younger children should work with the bags, coloring or cutting designs for the light to shine through. They can fill the cut designs with colored tissue paper to look like stained glass. Older children can paint and cut the milk jugs after they have cut off the tops and handles. Glue cellophane into designs cut into the milk jugs. Pour sand into the bottom of either the bags or the jugs and set candles in the sand. You can use real candles or battery-powered flicker lights.