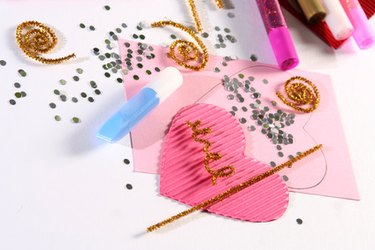 Valentine's Day is a wonderful opportunity to celebrate not just love, but also kindness, thoughtfulness and consideration. Whether it is a school event or a church meeting, participants can honor those who have demonstrated those traits throughout the year. By focusing on friendship rather than romantic love, Valentine's Day programs can be inclusive for all in attendance.
I Heart You
Hand out 12-inch red hearts cut from cardboard the week before the program begins. Have every audience member write down on the hearts the name of the schoolmate or church member who exemplifies the virtues of Valentine's Day, as well as why they deserve it. Deposit the hearts in the box. Before the program, count the hearts and announce the person with the most hearts. Give special awards to runners-up.
Speeches
Have students or church members give short speeches on the history of Valentine's Day. Subjects could include the legends of St. Valentine and the Roman festival of Lupercalia. Another speech could explore Valentine's Day celebrations in other countries. A group of students could alternate saying "I love you" in ASL, French, German, Spanish, Japanese and Chinese, among other languages. Other participants could read poems appropriate to Valentine's Day. "The Bill Martin Jr. Big Book of Poetry" has poems that are appropriate for all ages, as does Caroline Kennedy's "A Family of Poems: My Favorite Poetry for Children."
Singing Telegram
Have choir members choose special people to honor in the audience. Have them perform "singing telegrams." Each choir member announces who his singing telegram is dedicated to, and why. The choir will sing a short song dedicated to that person. Appropriate songs include "I Will Always Love You," "Because You Loved Me," "Change the World" and "Your Song."