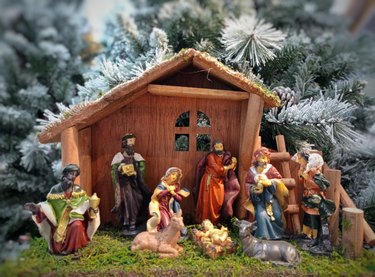 Free Christmas games can enhance a church party and act as great icebreakers. Games also work to form strong connections between people, the church and of course, the holiday itself.
A site like Bible Games Central is an excellent place to start if you want free games for a church Christmas party. Its Christmas Bingo features colorful illustrations of gingerbread houses, baby Jesus and more, and there are 12 bingo cards and 24 calling cards you can download. The site also has Christmas Trivia, Christmas "Minute to Win It" and an emoji Christmas song challenge.
There are more printable Christmas party games online, many of which are designed for kids and adults alike. You can find a free "Would You Rather" Christmas game, a Christmas Lights Scavenger Hunt game, a Christmas Pictionary Word List and a Christmas Charades word list online. You can also look for a word jumble, word search, I-Spy, Roll a Reindeer (similar to Yahtzee) and Christmas Mad-Libs.
You can play these fun Christmas games at parties and even at work holiday events as team-building activities, in addition to at church. To make things more interesting, you can award prizes to the winners. You can purchase Christmas-themed gifts like peppermint sticks and holiday ornaments, toys, gift cards or whatever else you deem to be appropriate for your group. Attendees can donate gifts or each contribute a few dollars towards the prizes.
Zoom Christmas Games for Groups
Most printable Christmas party games can be used for virtual parties as well. A Christmas trivia game is often quite popular. You can use thought-provoking throwback questions like "The writers of "Seinfeld"create which holiday? The answer is…Festivus." Of course, you will need to make sure that all participants receive the games ahead of time. Trying to put the trivia game together during the event makes things feel disorganized.
If you are planning a remote Christmas party, experts advise you keep it small. It may be tricky to plan a cohesive virtual event if you have more than 12 people. It is best to see everyone's face at the same time, especially if you are playing Christmas Charades. If there is a large group and people are coming on and off the screen, opt for short and sweet games. You can also divide larger groups into teams for play.
To prepare for a virtual Christmas party game, include the game (like bingo cards) with the party invites. The games can be attached as PDFs that attendees can print, or emailed as image files to view on screen. With trivia games, do not have too many questions; otherwise, the quiz may become boring for some guests. Limit your fun to around 10 questions.
You also can have rounds of trivia, in which the winners of the first bracket move on to the next and everyone else sits out. Virtual scavenger hunts can be fun, too. Make the participants search for Christmas items like mistletoe, a piece of ribbon or something similar, wherever they are located.