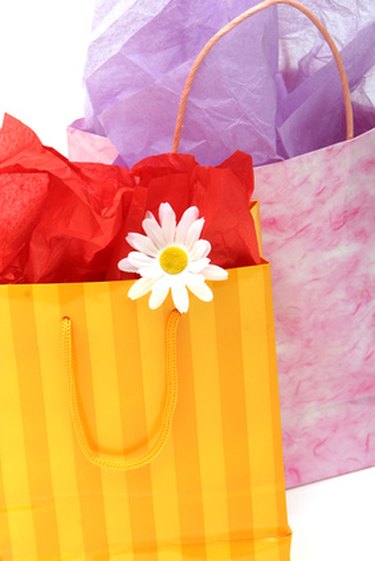 A grab bag is a crazy way for each person to receive a random gift. The basic idea of a grab bag is that each person participating in the event brings a wrapped gift that is placed in a large bag. The bag is then passed around the room for each person to randomly reach in and grab a gift. You can either wait until everyone has a gift to open them or each person can open the gift as they grab it. Regardless of how you choose to run the grab bag, certain fundamental rules must be established in order to maintain a level of uniformity and fairness.
Gender Neutral
Each grab bag gift should be gender neutral unless the party is for one specific gender, such as women at a baby or bridal shower. That means that the gift should easily be used by a man or a women and not specific to typical guy or girl items.
Budget
Communicate a clear budget that each gift must stay within. Depending on the type of group or organization, your grab bag gift budget can be anywhere from $5 to $25. Clearly communicate that the gift should be somewhere around the limit and not too far from it. For example, if you're budget limit is $20 someone shouldn't buy a gift for $5. The purpose of the budget is to make each gift fairly equal in value.
Wrapped
Each gift should come wrapped. If someone shows up with an unwrapped gift, have a brown paper bag or wrapping paper available to wrap it. The wrapping paper shouldn't communicate or hint at what's in the bag. For example, the wrapping paper should either have a basic print or plain color, not the word, "Macy's" written all over it.
Theme
Provide a theme for the grab bag gift to provide clarity and direction for what people should buy. Some theme ideas for a grab bag are food items, gift cards, coffee and tea items, work related items or holiday items. If the party is for a certain occasion, the grab bag can be focused around that particular theme.
Useful
Each grab bag gift should be useful. While some people like to bring gag gifts for a grab gab game, these should be avoided unless specially communicated. Although gag gifts can be funny, it may be a disappointment for someone who spent money on a useful gift that ends up with something they cannot use.