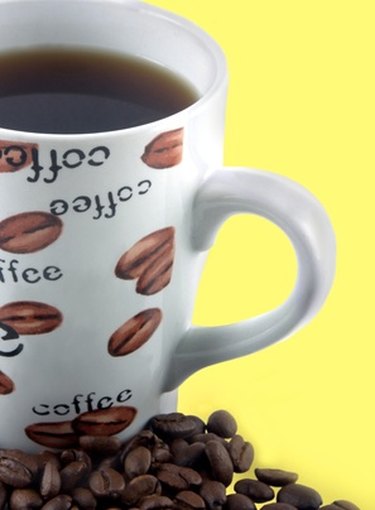 Show everyone how much you love your morning coffee by dressing up as a cup of your favorite brew. Choose basic materials in the primary color of the coffee cup you are trying to replicate to make the process easier, and add embellishments with fabric paints, stickers or iron-on transfers.
Garbage Can Coffee Cup
Make a plastic coffee cup costume by purchasing a round plastic garbage can with a lid. Cut out the bottom of the garbage can with a large knife so that you can move your legs freely. Print the logo of your favorite coffee brand onto a sheet of sticker computer printer paper. Cut out the logo and apply it to the center of the cup. Now staple two wide elastic strips to the top of the garbage can to create suspenders to hold the costume on your body. Attach two straps to the underside of the garbage can lid as well to create a chin strap so that the coffee cup lid will stay on your head. Wear a sweatsuit underneath the costume for comfort.
Coffee Mug
Turn a collapsible laundry hamper into a coffee mug by cutting out the bottom of the hamper with a pair of scissors. Wrap a large piece of felt in any color around the outside of the laundry hamper to give the costume more stability. Attach the felt to the hamper with a hot-glue gun. Cut leftover felt into two identical coffee mug handle-shaped pieces. Sew the handles together, leaving one edge open. Turn the handles inside out and stuff the handle with batting so that it will maintain its shape. Sew or pin the handle into place on the side of the mug. Decorate the mug with letters or shapes cut from a different color of felt. Finish the costume by stapling elastic bands to the top of the coffee mug to form suspenders.
Fabric Coffee Cup
A fabric coffee cup can be created quickly without any sewing by using a quilting hoop and a sheet. Use a quilting hoop that is at least three feet in diameter and keep in mind that the size of the hoop will determine the diameter of the finished coffee cup. Purchase a sheet of foam board from a craft store or an office supply store. Cut the foam board so that it fits perfectly inside the inner ring of the quilting hoop and then hot-glue the foam into place. Cut a hole in the foam with a utility knife that is large enough to place over your head so that the foam and hoop rest on your shoulders. Drape the sheet between the inner and outer rings of the hoop and fit the rings together to hold the fabric in place. Decorate the sheet with fabric paints or iron-on transfers to mimic a cup of coffee.