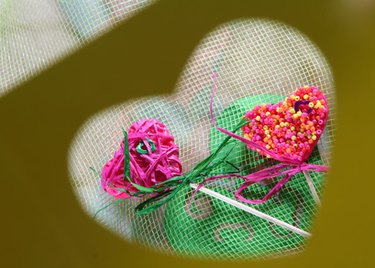 For Christians looking to celebrate Valentine's Day, it can be difficult to find activities that honor their faith. Most Valentine's Day party themes are secular in nature. However, with a little creativity, many Valentine's Day party themes can be adapted to incorporate Christian values. Celebrating love doesn't have to mean just celebrating romantic love; it can also include a celebration of the love Christians feel for God.
Heavenly Music
Many Valentine's Day parties involve holding a dance. Why not hold a Christian Valentine's Day party dance? The dance could have a "heaven" theme. Many popular songs have lyrics referencing heaven, and you could play a mix of these songs at the dance. Decorations could include clouds, cupids and other "heaven" motifs. Alternately, your dance could have an "angel" theme. Guests could come dressed in angel costumes, and angel-themed foods, such as angel food cake, could be served.
Scripture Game Night
In the Bible, there are many discussions of love. Your Christian Valentine's Day party could involve a game night featuring word games that relate to scriptural verses about love. For instance, your guests could play "Dueling Scripture Quotes." For this game, your guests divide into two teams, which take turns citing scriptural quotes about love. The team that remembers the most quotes wins. Another game involves taking the phrase "Jesus loves me" and turning it into a word scramble. The team that recombines the letters in "Jesus loves me" into the most new words wins.
Christian Crafts
For those who like crafts, a Christian Valentine's Day party with a craft theme could be quite enjoyable. This theme is effective for Christian Valentine's Day parties for children as well. The party involves making crafts that have both a Valentine's Day theme and a Christian theme. For instance, homemade valentines could be constructed, using colorful paper, glitter and other materials. These valentines could have lines of scripture written or pasted into their centers. Another craft for this theme is soap-making. By using the appropriate molds, melt-and-pour soaps can be shaped like hearts, flowers, angels and other Valentine's Day motifs. These soaps can be decorated with crosses, Bible quotations and other Christian symbols. There are a number of other options for a Christian Valentine's Day craft party, including jewelry-making, knitting, making picture frames and other crafts.
Roses, Chocolate, Love & Faith
Since Valentine's Day is all about love, why not hold a Bible Study group about love on this occasion? A study-group night can easily be transformed into a party by the inclusion of refreshments and decorations. Red beverages, such as wine or raspberry juice, could be served, as well as chocolate and other traditional Valentine's Day treats. Fresh roses will give the event a festive air. This could be a wonderful opportunity for friends to gather and share what love means to them, especially in the context of their faith.