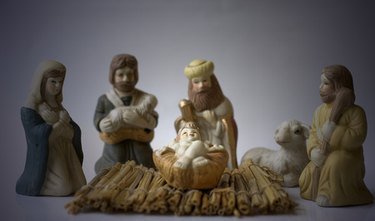 Christmas is the perfect time to gather with friends and celebrate the birth of Jesus Christ. Holiday parties are full of food, fun and games. When planning a Christmas party for a Christian crowd, there are plenty of activities suited for fellowship, including festive versions of word games, charades and bingo.
Word Games
Any-occasion-free-christian-game.com recommends taking a typical word game, such as Word Scramble, and making it appropriate for Christmas. Scramble words related to the nativity, such as "wise men," "Bethlehem" and "Gabriel," for starters. Make a list of at least 10 words, and arrange the party into small groups. See what team is the first to finish. Another idea that would take more preparation and execution time is a word search or crossword puzzle with Christmas words and clues.
Charades
This classic party game can be adjusted to suit any occasion. Make a list of ideas before the party, or have the guests brainstorm actions, people or situations related to Christmas. Suggestions for include: wrapping a present, decorating the tree or making Christmas cookies. Split the guests into two teams, and set a timer for 30 seconds for each team. See which team can reach 25 points first.
Bingo
One Christmas variation on this game is to simply replace the normal numbers and letters with Christmas-related words. A more challenging option is to write Bible verses, such as "John 3:16" or "Luke 1:31," on each square, then have the caller read the full verse. Guests must match the scripture to get four in a row. For this activity, have at least 25 verses for guests to choose from when filling out their cards. You can also intersperse scriptures and words to make it less difficult. A variation for children is to use Christmas-themed pictures on the cards, and call out the words. For example, a picture of a present would appear on the board, and the player would cover it up when he or she heard the word "present." To lessen the preparation time, have guests draw their own pictures on the bingo cards from a set list of 25 words.