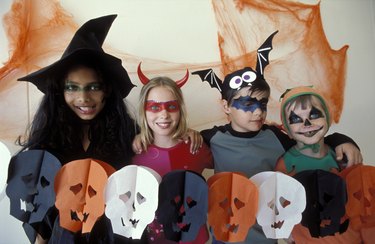 Halloween is an exciting holiday for fourth graders. Ten and eleven-year-old children eat up the spooky Halloween fun the holiday brings. For parents and educators it can be a challenge to come up with activities that are spook-tastic and entertaining enough for a fourth grade class or party. Bobbing for apples never gets old, but you may also need to try out some new games to keep the kids' interest up.
Halloween Yahtzee
This special Halloween edition of Yahtzee features dice adorned with characters from "It's the Great Pumpkin, Charlie Brown" and a unique Great Pumpkin scoring pad. Yahtzee is played by two or more players taking turns rolling five dice a maximum of three rolls per turn. On a player's turn he must fill in one block on his Yahtzee score card. The object is to get the highest score by filling in the highest values possible on the score pad. The game comes self-contained in a plastic container that doubles as a dice-throwing cup, so it travels easily. This Yahtzee variation makes a great activity for any Halloween celebration or class party. The average retail price ranges from $12.95 to $16.95 as of 2010.
Boo-opoly
Try a new twist on an old favorite: a spooky Halloween-themed Monopoly game. Monopoly is the decades-old real estate buying and selling board game where players buy properties, collect rent, try to build houses and hotels and become the richest person in the game buy bankrupting their opponents. What ten-year-old doesn't like Monopoly or Halloween? Put them together and you've got a hit. With spooky Halloween game pieces like a bat, a ghost and a pumpkin, to name a few, your child will learn fun Halloween facts and trivia too as he collects scary properties and builds haunted houses and full moon hotels. As of 2010 the retail price for Boo-opoly is $24.95.
Spider Web
This is a fun classroom game and all you need is a big ball of black yarn. Students form a large circle. One child holds the end of the yarn and tosses the ball across to another child, he in turn holds on to the strung end and tosses the ball across to another child. Keep tossing the yarn around the circle until a spider web is formed. This also makes a good Halloween party activity.
Spooky Story
Fourth graders are very creative, and this game will encourage imaginative thinking, creativity and cooperation. The teacher begins by telling the first few lines of a spooky Halloween story. Students then take turns adding to the story, going around the room at least twice, if there is time, until one student is chosen by the teacher to end the story. The teacher should record the story on paper as it is being told so she can read the class's story back to them another day. This game always generates a lot of laughter and is fun for all.
Halloween Scavenger Hunt
This classroom or Halloween party activity can be played in teams or individually. Spooky and scary Halloween items are hidden around the house, classroom or yard. Clues are written on some pieces of paper and handed out to participants. Now it's a race to the finish to see who will be the first to collect as many items from the list as possible. The winner gets a big Halloween treat.