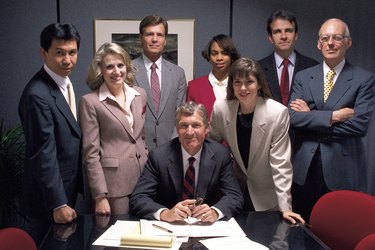 Showing your board of directors that you appreciate their dedication and service is needed. Everyone wants to feel like his or her efforts are notices and rewarded. Giving your board of directors gifts that are practical and thoughtful will show them that you care about their lives and recognize their service to your organization or company. You can give a gift that is generalized or something that's more personal, depending on the relationship. Give gifts that will provide reward and reflection on the hard work they've done.
Monetary Gifts
Provide your board of directors with a gift in the form of cash or gift cards. Gift cards are a great way to give a gift, because it appears to be worth more than it is. For example, if you give someone $20 on a gift card it is perceived as more valuable than a $20 bill. You can give a gift card to an online superstore, a famous restaurant or a popular coffee shop in your town or city.
Banquet
Give the gift of food, fun and time by having an exclusive banquet for the board of directors of your organization. Throw a ball, have a party or meet up at a fine dinning restaurant and have a time of demonstrating your appreciation for the board. Have a time set aside where you can have people from the organization stand up and share their gratitude for the board's work and sacrifice.
Retreat
Send the board of directors on an all-inclusive paid retreat. Pay for their travel, hotel stay and all food. This can be a time of relaxing, refreshment and reward for long, hard hours given to your organization. Have the board invite their families to join them on the retreat to make it more meaningful and purposeful. You can have a few sessions during the retreat that provide them with education, encouragement and sharpening of their skills.
Thank You Booklet
Have people involved or touched by your organization write different thank-yous that can be complied into a professionally bound book. You can include photos, letters and a brief history of the company or organization. This type of gift will become a keepsake and a constant reminder of the impact the organization is making in people's lives. Leave blank pages at the end of the booklet for people to sign and write their own words of thanks to one another.