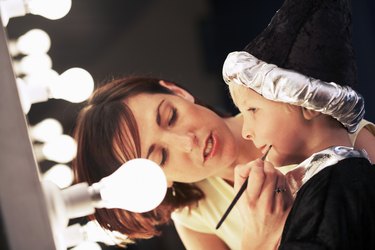 The main characters Jack and Annie from the children's book series "The Magic Tree House" are typically clad in simple and basic attire while roaming the world and through time in their adventures. The costumes can be easily created from your own closet or with a few small purchases at a local thrift or fabric store.
Jack
For someone playing the series hero Jack, a few basic pieces will be the essence of the costume. Jack is typically seen wearing a solid colored tee-shirt or sweater paired with blue jeans. For the shirt, choose red, green, blue or virtually any bright and solid color. For shoes choose a pair of sneakers. Jack is generally seen wearing a brown backpack. Add a pair of round-rimmed glasses to complete the look. If desired, hang a camera around the wearer's neck to capture all of Jack's adventures on film.
Annie
Fair-haired heroine Annie is also typically seen in plain and simple clothing. Choose a solid colored shirt in pink, purple or red paired with blue jeans. Add a pair of sneakers as well as a backpack to the look. If desired, Annie can be seen wearing a camera around her neck; add this detail to complete the look. In the backpacks, consider carrying a copy or two of the books to clarify the costumes for anyone unfamiliar with the series.
Merlin the Magician
For a third member of the costume party, consider using new addition to the series Merlin the Magician. Merlin is clad in a long purple robe wrapped in a purple cloak. Cinch the robe at the waist with a belt or rope. Add a pointed purple or deep blue wizard's hat accented with gold stars. Finish the look by adding a cascading white beard.