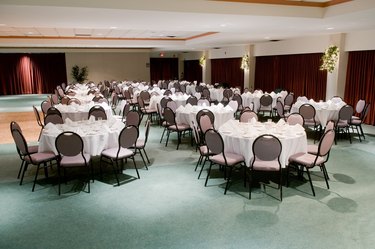 The relationship between a mother and a daughter is one of the most enriching, loving and important bonds in the family structure. It is also one of the most complicated, as it moves through stages of life for both mother and daughter, sometimes creating strong loving bonds, other times producing stress and tension. But troubled as it may be at times, the celebration of this important relationship is welcome. Mother-Daughter teas and events hold a place in history and show no sign of disappearing from the social calendar.
Who She Is
Table games can be the theme at a mother-daughter event and are an opportunity for playful interaction between mother and daughter. Let each participant write down a series of descriptive phrases about her relative. At some point during the luncheon or tea, read off a card and see if the person can recognize the person who wrote the card, or if she recognizes herself as the one being described. Have each mother and daughter individually write down her wishes for her family member. Read them aloud and see if the pair recognizes themselves.
Picture Perfect Theme
Have the attendees bring in pictures of themselves as children. Place on a viewing board and have all guests try to match up the mother-daughter pairs. Decorate the tables with pictures of moms-daughters or use a picture as a place card.
Working Together
Strengthen the bond by teaming the moms and daughters to work on a project. Decorating a hat, writing a story or painting a picture are all good projects for the duo. Have the two "show and tell" their projects at the end of the event.
Famous Relatives
Find pictures of famous mother-daughter combinations—Liza Minelli and Judy Garland, Carrie Fisher and Debbie Reynolds, Kate Hudson and Goldie Hawn—and decorate your space. Have a photographer on site to create a portrait of the moms and daughters in attendance. You can ask that moms and daughters come to the event dressed as one of the famous mother-daughter pairs.
What to Wear
Ask each guest to wear something from her daughter or mother and see if the other guests can guess what it might be. For example, a pair of boots, vintage or new, might work for a daughter. Or a piece of jewelry might be an appropriate choice. Mom might choose a scarf or bag from her daughter.