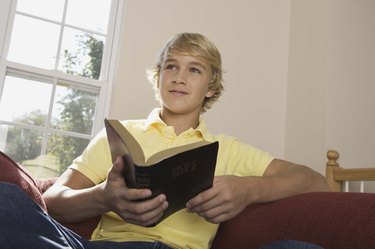 Baptism is an important event in the life of a Christian. Different churches and denominations approach baptism differently, but at its core, baptism is a public commitment to your faith and symbolizes a fresh beginning in your walk with God. When a teenager makes such an important decision, a gift will help show your love and support.
A study Bible
Although he may already have a Bible, a new study Bible might be a good idea. Study Bibles contain numerous references, articles, time lines and maps to assist the serious student. A good study Bible will help him go deeper and learn even more about the history and tenets of his faith.
CDs
A set of CDs by a great Christian speaker or a series of sermons on a topic of interest to teens, such as dating, would be an excellent choice. Of course, CDs by his favorite inspirational musical artists are sure to be appreciated, too.
Dog tags
These necklaces are a perfect baptism gift and can be worn by guys or girls. They have the appearance of dog tags, but have a picture of his favorite sport and a cross. He will appreciate an attractive yet understated expression of his faith.
Sword
In Ephesians 6:17, the Bible calls believers to "take up the sword of the Spirit" as they battle evil and unrighteousness. Most boys think swords are cool, and when you give a Christian teenager a sword at his baptism, you are speaking to his masculinity and showing that you believe he will use his strength in good ways. The sword is a symbol of honor and courage, and will be a gift that he cherishes.