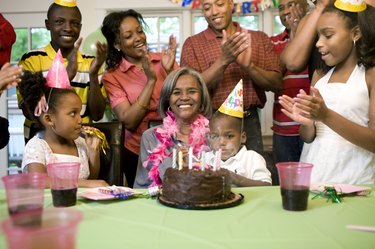 A 50th birthday party celebrates the half-century mark in a person's life, and should be a very special event. When planning desserts for the party, consider how they will fit with the overall menu. Whatever desserts you choose should be elegant and even a bit unusual. After all, a 50th birthday is a once-in-a-lifetime event.
Mousse
Mousse can be very attractive when layered with colorful fruit or garnished with elegant shaved chocolate. A white chocolate or lemon mousse will give you a very elegant look. If you will be serving a large number of people, instead of parfait glasses, use disposable wine or champagne glasses.
Tarts
Tarts are easy to make in individual serving sizes, and guests will be delighted. Fruit tarts are best served when fresh fruit is in season, so plan on this dessert if the 50th birthday falls between April and September.
Cheesecake
Like tarts, cheesecake can also be made in individual servings. In fact, small cheesecakes were served at the first Olympic Games in 776 B.C. Cheesecake has only grown in popularity since that time, and your guests are certain to enjoy it. Cheesecake has been known to cause small riots at the dessert table, so have plenty of servings on hand. Consider serving a basic cheesecake as well as a chocolate or caramel variety.
Cookies
A cultured choice is black and white cookies, which bring to mind tuxedos and Fred Astaire -- they are delicious and striking. Other good cookie choices are simple butter cookies or madeleines. Or if you really want to get fancy, serve sugar cookies decorated with white icing and silver sprinkles or cut in the shape of the celebrant's first initial. See the Resources for recipes.
Truffles
Truffles are a rich addition to any dessert selection. Try alternating white, milk and dark chocolate truffles on a serving platter for a nice look. Truffles drizzled with a lighter or darker chocolate, or garnished with bits of orange peel or pistachios are especially attractive.
Miniature Cream Puffs and Éclairs
Whether store-bought, homemade or catered, cream puffs and éclairs are almost always delicious. Serve the miniature version, leaving room for your guests to sample other desserts as well. Note, though, that because cream puffs and éclairs need to stay cool, they do not work well at summer parties held outdoors.