You may have noticed cauliflower recipes popping up all over the internet and in cookbooks and wondered what all of the buzz is about. The answer is simple: cauliflower is extremely versatile, full of health benefits, and can be flavored to taste like just about anything. It is a very adaptable vegetable, making it an attractive ingredient to have on hand for an assortment of recipes.
From classic recipes to the peculiar and seemingly ridiculous, there is no shortage of options for livening up your dining experience, while injecting your diet with nutrients. Let's get to know cauliflower a little better through learning about its health benefits, familiarizing ourselves with preparation methods, and trying out some delicious and unique cauliflower recipes.
(bit245/iStock/Getty Images)
Cauliflower is a low calorie food, packed with vitamins, minerals, and antioxidants. Just one cup of cauliflower awards you 73% of the Vitamin C you need for the day. It also contains Vitamins K, B6 and B2, and is a good source of manganese and folate. Dense in antioxidants, cauliflower may help prevent cancer and fight disease through detoxing the body of damaged, oxidizing cells.
Cauliflower is a natural anti-inflammatory, making it a great alternative to grains and other foods that cause digestive discomfort and inflammation. It is also full of fiber, which is important for digestive balance and prevents harmful bacteria from attaching to the stomach wall. All factors added together results in a food that is helpful in supporting your immune system and keeping your body's cells and organs healthy.
moodboard/moodboard/Getty Images
The World's Healthiest Foods
Chopping cauliflower into florets and serving it raw with an herb dip is popular for large gatherings and holidays, but you can get more creative than that with raw cauliflower! It can also be shaved using a mandolin slicer and made into salad. Mix the grated or sliced cauliflower with other vegetables, nuts, and homemade vinaigrette for a unique and healthful side dish.
Try your hand at this Shaved Cauliflower Salad from Happyolks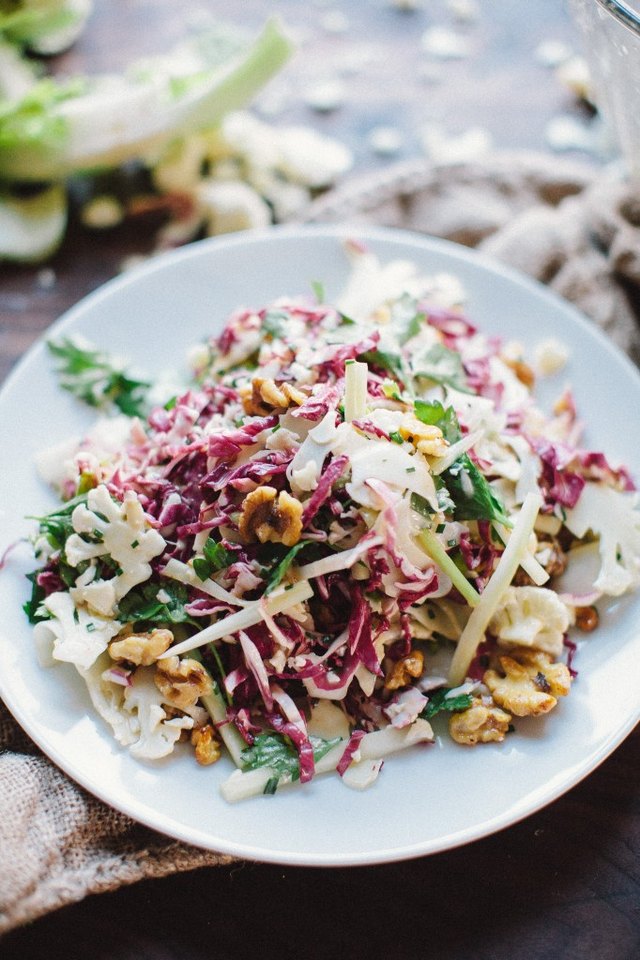 Happyolks
Happyolks
Steamed cauliflower is less than exciting when eaten plain, but it can be incorporated into all sorts of dishes. In order to steam cauliflower, remove the green stalks and quarter the cauliflower or chop it into florets. Place in a steamer and steam for 4 to 10 minutes, depending on whether you want your cauliflower al dente or very soft. If you are steaming the cauliflower in order to puree or mash it, steam it for 8 to 10 minutes.
Once cauliflower is steamed, it can be incorporated into a number of recipes, like these Cauliflower Lentil Veggie Burgers with Spicy Turmeric Aioli from Tasty Yummies.
Tasty Yummies
Tasty Yummies
Roasted cauliflower can be enjoyed as is or added to a variety of dishes. To roast cauliflower, preheat your oven to 425 degrees Fahrenheit. You can either chop the cauliflower into florets or cut it into thick slices to create cauliflower "steaks." Lightly coat the cauliflower with grapeseed or olive oil, sea salt, pepper, and any other seasonings of your choosing. Lay the cauliflower on a baking sheet and roast for 30 to 40 minutes, stirring once half-way through.
Roasted cauliflower is hearty, filling! Check out these Moroccan Cauliflower Steaks with Caramelized Onion Couscous!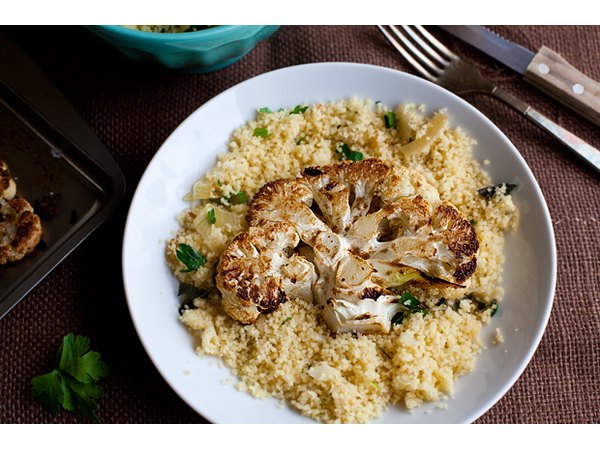 eHow
eHow
Try grilling up an entirely different type of "steak!" Simply Slice large sections of cauliflower, making steaks out of the head. Lightly coat the sections with olive oil, and drizzle with salt, pepper, and your desired seasonings. Place on a grill heated to medium-high for 15 to 20 minutes, flipping every couple of minutes in order to cook the cauliflower evenly. Serve with a tasty sauce, such as barbecue, chimichurri, pesto, or harissa, or make it into a sandwich!.
Fire up the grill and try this Crazy Good Miso-Grilled Cauliflower from Refinery29.
Refinery29
Refinery29
Looking for a low-carbohydrate alternative to mashed potatoes? Cauliflower is the perfect replacement. Simply steam a head of cauliflower and blend it in a food processor or mash it with a potato masher. You can serve it as is or get creative with your toppings.
This Brown Butter & Caramelized Onion Mashed Cauliflower from Running to the Kitchen makes for an excellent side dish with benefits.
Running to the Kitchen
Running to the Kitchen
Cauliflower rice popular among those who eat a low-grain or grain-free diet. To make grain-free rice, place cauliflower florets into a food processor and pulse a few times until "rice" forms. If you don't have a food processor, you can grate the cauliflower with a box grater. Once grated, sauté the cauliflower rice with garlic, onion, and your choice of spices to make a flavor-filled side dish.
Add this Spanish Cauliflower Rice with Kale from The Roasted Root to your next burrito for a flavor and nutrient injection!
The Roasted Root
The Roasted Root
Quick and flavorful, stir-fry cauliflower is easy to make any night of the week. Throwing in other vegetables along with tasty sauces is a sure win and makes for a healthy meal. Heat a few tablespoons of peanut or sesame oil over medium-high heat. Sauté the cauliflower, stirring frequently, until it reaches desired level of "done-ness," anywhere from 8 to 15 minutes.
Takeout fakeout stir-fry is all the rage right now! Try General Tso's Cauliflower from Bakeaholic Mama.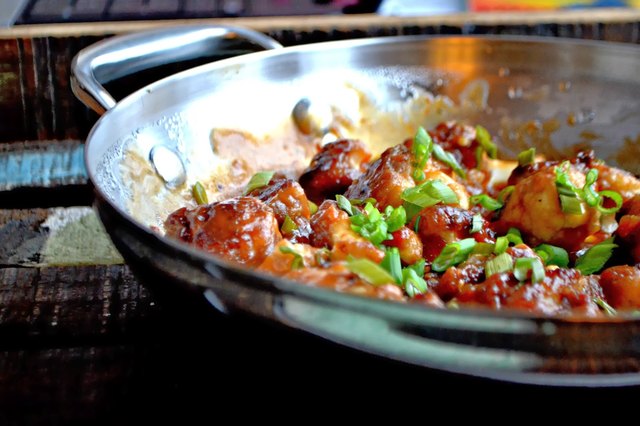 Bakeaholic Mama
Bakeaholic Mama
Did you know cauliflower can be pureed into sauce and used to replace heavy cream? For a lightened up version of béchamel or alfredo sauce, steam cauliflower and puree it in a blender along with other ingredients for the sauce. This results in a rich and comforting sauce that no one would guess was made with cauliflower.
Try making your next "creamy" sauce by following Pinch of Yum's Creamy Cauliflower Sauce recipe!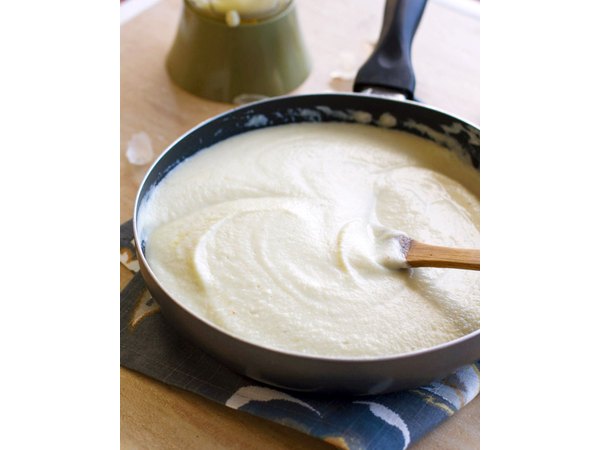 Pinch of Yum
Pinch of Yum
Fried cauliflower will instantly quench your "crunch" craving. Cauliflower florets are breaded using bread crumbs or a gluten-free mixture, then fried for 2 to 3 minutes per side in hot oil. Plus, getting creative with dipping sauces is half the fun!
Have the munchies? Try these Crispy Coconut Cauliflower Bites from Fork and Beans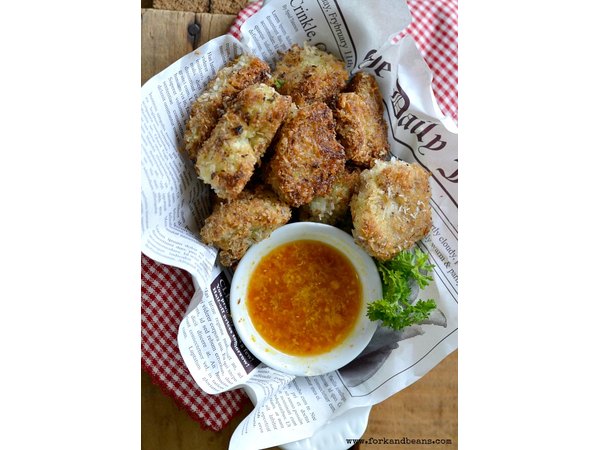 Fork and Beans
Fork and Beans
Pizza crust made gluten-free and grain-free with cauliflower is the newest way of getting your pizza fix, while keeping your diet healthful. This paleo-friendly crust is made by steaming a head of cauliflower, pureeing it with eggs and cheese, and baking it in the oven with your favorite pizza toppings.The result: a delicious pizza that is rich in flavor.
Get the recipe and tutorial on making Cauliflower Pizza Crust from Perry's Plate
Perry's Plate
Perry's Plate
Promoted By Zergnet