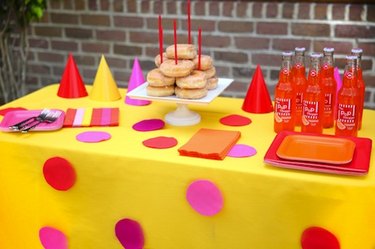 If you find yourself planning a summer celebration, chances are you're putting a lot of thought into coordinating a delicious menu, a fun theme and lovely decorations. The key to throwing a seamless dinner party is to put your own personal touch on little details like outdoor rugs, candles and party favors. From table settings to festive party favors, we've gathered some of the freshest ideas to inspire you to pull off the perfect summer fête.
11. Polka Dot Tablecloth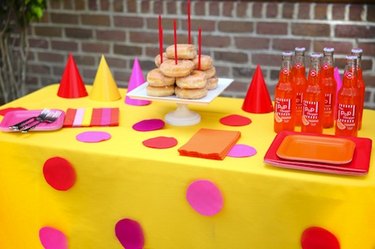 If you're looking for a one-of-a-kind decoration for your next backyard barbecue, try creating this simple, polka dot tablecloth. eHow Home blogger Courtney Whitmore of Pizzazzerie used felt circles to give this yellow table cloth a colorful boost.
10. Stenciled Cactus Outdoor Rug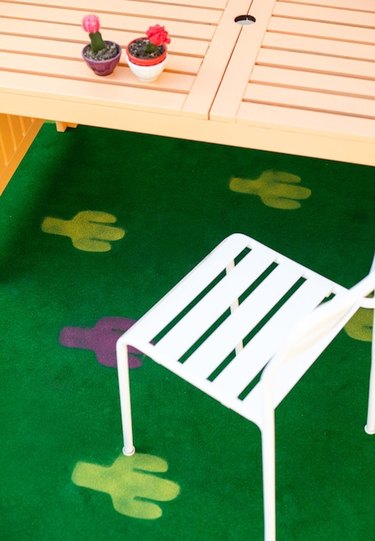 Add a bit of greenery to your patio with this Southwest-inspired outdoor rug. Download the free stencil and paint a cactus motif onto a large piece of AstroTurf like eHow Home blogger Victoria Hudgens of A Subtle Revelry, or get creative with your own template design.
9. Colorful Table Setting
Wow your guests with mixed and matched table decorations. This table setting, styled by eHow Home blogger Amber Lewis of Amber Interiors incorporates napkins, wine glasses and place mats in coordinating hues of blue.
8. Colorful Oil Lamps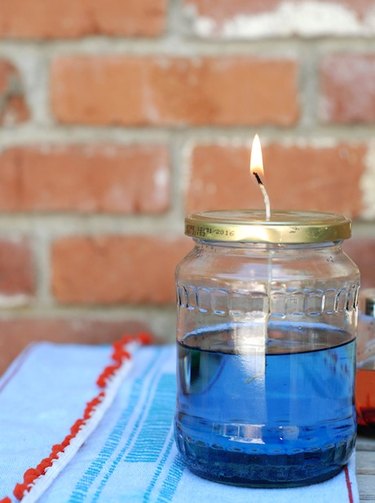 Light up your dinner party with these rustic oil lamps. eHow Home blogger Victoria Hudgens of A Subtle Revelry, shows us how to craft these wonderfully simple candles out of mason jars, wicks and candle oil.
7. Terra Cotta Planter Table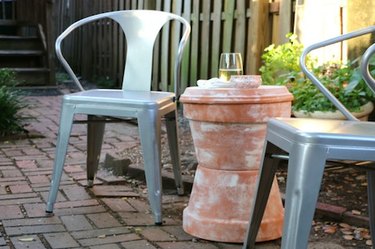 A little bit of paint transforms terra cotta pots into an outdoor accent table. Recreate this weathered look using the step-by-step guide from eHow Home bloggers Tim and Mary Vidra of 17Apart.
6. Beach Ball Party Favors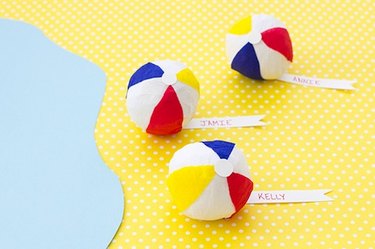 What's better than topping off a successful dinner party with adorable party favors? These surprise balls come courtesy of eHow Crafts blogger Kelly Lanza, the creative voice behind the blog Studio DIY. Wrap streamers around any assortment of goodie-bag trinkets such as bouncy balls, balloons and pieces of candy to create these festive favors.
5. Painted Doormat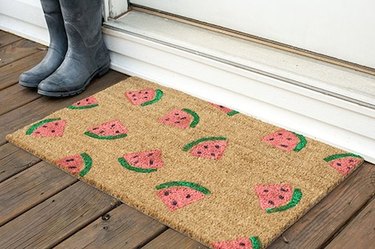 Use paint and a foam sponge to decorate a natural straw mat for your entryway. Inspired by a summer barbecue, eHow Home blogger Carrie Waller created a watermelon motif on her welcome mat.
4. Food Toppers
Keep pesky bugs at bay with these food toppers created by eHow Home blogger Victoria Hudgins of A Subtle Reverly. Using cloth doilies, old scarves or scraps of fabric and fabric stiffener you can fashion the perfect tool to make sure your outdoor picnic is insect free.
3. Party Garland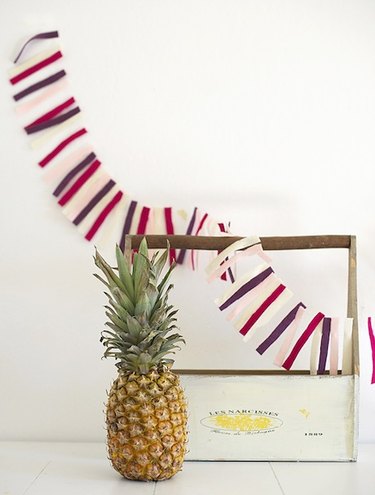 One of the best ways to accentuate your party theme is to incorporate decorations, and nothing says "festive" quite like a brightly colored garland. eHow Home blogger Victoria Hudgins used felt strips in coordinating colors to create this one-of-a-kind adornment.
2. Ombre Serving Spoons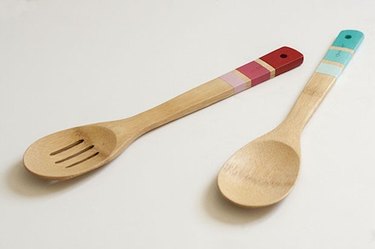 Put an artistic twist on a pair of serving spoons like these from Carrie Waller, eHow Home blogger and author of the blog Dream Green DIY. Painting increasingly lighter shades of your favorite color acrylic paint onto the handles will create an ombré effect.
1. Rope-Wrapped Vases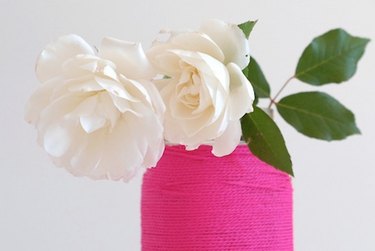 Party decorating is nearly incomplete without a flower arrangement. Design-minded eHow Home blogger Victoria Hudgins of A Subtle Revelry demonstrates how to repurpose an old vase or mason jar by wrapping nylon cord around the entire glass.