Things You'll Need
Round tablecloth

Elastic - 1/4-inch wide, at least 8 yards long

Safety pins

Needle

Thread

Sewing machine

Scissors

Tape measure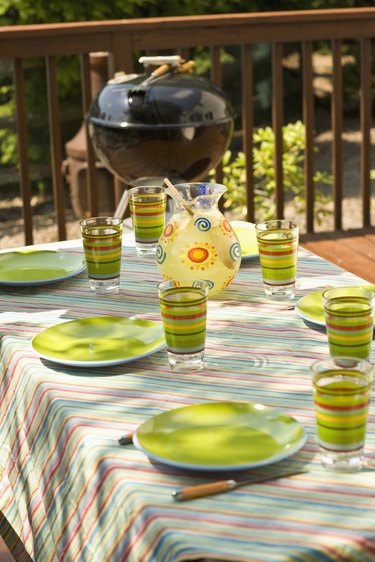 A fitted tablecloth, like a fitted bed sheet, has elastic sewn along the hem so it grips the edge of the table. The primary use of such tablecloths is for outdoor events -- to keep the tablecloth from flapping about in the wind. You can buy fitted tablecloths from a store, but you can also make them at home -- using an old tablecloth and some elastic.
Step 1
Lay the tablecloth over the table, and adjust it so it hangs evenly on all sides. Place a heavy weight in the center of the table to hold it in place.
Step 2
Cut around the edge of the tablecloth so the overhang is reduced to about 4 inches.
Step 3
Measure around the edge of the table using a tape measure. This is the amount of elastic required to fit the cloth. If possible, use just one length. If not sew lengths of elastic together.
Step 4
Sew a 1 1/2 inch wide hem around the entire edge of the tablecloth using a sewing machine. Sew the hem on the underside of the tablecloth. Leave an opening at one end so the elastic can be threaded through.
Step 5
Attach a safety pin to both ends of the elastic. One pin must be attached to both the elastic and the tablecloth -- where the opening was left -- so the elastic does not get lost in the hem.
Step 6
Thread the other end of the elastic, with the safety pin attached, all the way through the hem of the tablecloth. Use your fingers to push the safety pin along -- inside the hem.
Step 7
Detach the safety pins from both ends of the elastic, and either sew the two ends of the elastic together or secure with one of the safety pins.
Step 8
Sew the two ends of the hem together to hide the ends of the elastic.
Tip
If fitting the tablecloth to a rectangular or square table, hem one side at a time, thread elastic through each, and secure the ends to create fitted corners.