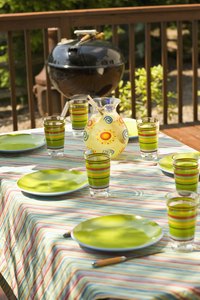 A fitted tablecloth, like a fitted bed sheet, has elastic sewn along the hem so it grips the edge of the table. The primary use of such tablecloths is for outdoor events -- to keep the tablecloth from flapping about in the wind. You can buy fitted tablecloths from a store, but you can also make them at home -- using an old tablecloth and some elastic.
Things You'll Need
Round tablecloth
Elastic - 1/4-inch wide, at least 8 yards long
Safety pins
Needle
Thread
Sewing machine
Scissors
Tape measure
Lay the tablecloth over the table, and adjust it so it hangs evenly on all sides. Place a heavy weight in the center of the table to hold it in place.
Cut around the edge of the tablecloth so the overhang is reduced to about 4 inches.
Measure around the edge of the table using a tape measure. This is the amount of elastic required to fit the cloth. If possible, use just one length. If not sew lengths of elastic together.
Sew a 1 1/2 inch wide hem around the entire edge of the tablecloth using a sewing machine. Sew the hem on the underside of the tablecloth. Leave an opening at one end so the elastic can be threaded through.
Attach a safety pin to both ends of the elastic. One pin must be attached to both the elastic and the tablecloth -- where the opening was left -- so the elastic does not get lost in the hem.
Thread the other end of the elastic, with the safety pin attached, all the way through the hem of the tablecloth. Use your fingers to push the safety pin along -- inside the hem.
Detach the safety pins from both ends of the elastic, and either sew the two ends of the elastic together or secure with one of the safety pins.
Sew the two ends of the hem together to hide the ends of the elastic.