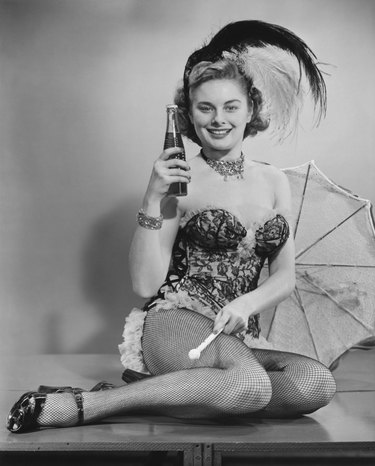 Whether you are dressing up for a wild west theme party or creating a burlesque costume, a homemade saloon girl outfit is straightforward to put together and flattering for ladies of all shapes and sizes. It offers an exciting alternative to a cowgirl costume and is sure to win the approval of the sheriffs and cowboys.
Clothing
A corset, worn with a ruffled or tiered skirt, forms the basis of the saloon girl costume. The skirt should be full and worn over layers of lace or crinoline petticoats. A skirt which is long at the back and short at the front looks effective. It could also feature a bustle. Choose dramatic colors such as black, red or green, and include plenty of lace trimmings. Use a pattern to make your own skirt, or adapt items sourced from thrift stores or underwear departments. Choose fabrics such as satin and lace to work with.
Accessories
Wear fishnet tights or stockings and large lace-trimmed panties to protect your modesty. Make a garter from a length of elastic trimmed with lace and ribbons, and wear it just above one knee. Wear lace-up ankle boots or black court shoes. Long gloves made from lace or of a matching color to the dress look effective. Drape a feather boa around your shoulders.
Headdress and Props
Make a headdress using large, soft feathers, attached to a velvet headband. Choose black feathers, or choose colors that match your dress. Wear the headband with the feathers at the back or to one side of your head. Fan yourself with a black lace fan, and tuck some playing cards into your waistband or into the top of your corset. Carry a shot glass or a bottle of whiskey.
Hair, Make Up and Jewelry
If you have long hair, style it in large, tumbling curls. Arrange it so the sides are pinned back away from your face, and leave the back long and loose. Consider wearing a wig if your hair is very short. Wear heavy make up, with dark eyes and full, red lips; use plenty of lip gloss and eyeliner. Make a velvet choker from a length of ribbon to wear around your neck and wear large, dangling earrings.