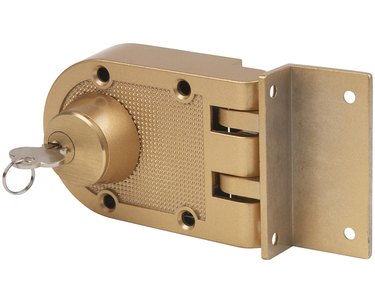 Home security is serious business; you want to protect yourself and your family from intruders while at home and away. One of the most secure interior-mounted exterior door locks is the deadbolt. An intruder might be able to pick a keyed deadbolt lock, but most deadbolts can only be deployed from the interior of the door. Some people increase security further by installing multiple keyed and non-keyed deadbolts on one door.
Deadbolt Locks
Any lock featuring a bolt that can't be pushed back from the bolt tip is a deadbolt lock. Some deadbolts like the rim lock are surface-mounted, while other deadbolt assemblies are installed within the door. Deadbolts operate either with a thumb-turn or key. Single-cylinder deadbolts are lockable from the inside of the door with either a thumb-turn or key. Double-cylinder deadbolts feature an exterior keyhole and interior thumb-turn or keyhole.
Mounting Height
A deadbolt can be mounted anywhere along the vertical edge of the door. You may not have much of a choice as to where to mount the lock if the door is too close to a corner or otherwise oddly positioned. Deadbolts are typically placed above the door handle, anywhere from 48 to 70 inches from the ground.
Installation
Secure the paper template included in the lock kit to the door in the exact location the lock is to be installed. Mark the center of the drill hole on the interior of the door and the door edge. Drill out the holes with the correct size hole saw, then insert the lock assembly, cylinder and and trim. Secure the assembly with trim screws, then mark and chisel out the strike plate hole. Skip the drilling step for a rim lock, and simply level and mount both components to the interior of the door and trim.
Maintenance
Locks must be serviced regularly if they are to continue to operate optimally. When the lubrication is lost, the mechanism won't turn easily and you could break the lock itself or lose part of your key in the keyhole. Apply graphite powder or spray or a petroleum-based lubricant to the keyhole and around the bolt every six months to keep your locks in good working order.