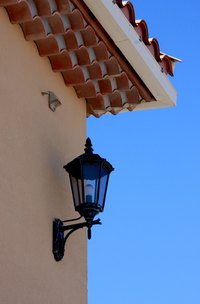 Exterior light fixtures can add character and modernize your home's outdoor appearance. They can be found in a vast array of styles and sizes. They can also add extra security, by lighting otherwise dark areas surrounding your home. Installing an exterior light fixture on a stucco wall is a simple project.
Things You'll Need
Torpedo level
Screwdriver
Wire nuts
Wire strippers
Electrical tape
Tube of Exterior Silicone Caulk
Caulk Gun
Turn off the power to the fixture junction box at the home's service panel (breaker box). Confirm that the power is off by checking each wire in the junction box, using a non-contact voltage tester. Separate the wires in the box. If there is not an existing junction box, contact a licensed electrical contractor to have one professionally installed. It is very important that all exterior electrical fixtures are mounted to a junction box so that they will not be a fire hazard.
Prepare the new fixture to be hung by stripping the ends of the wires.
Attach the new light fixture's mounting bracket to the existing electrical junction box using the screws provided. Lay a torpedo level across the screw studs that are attached to the mounting bracket to ensure the fixture will be level.
Pull the wires free from the junction box and connect to the corresponding wires on the new light fixture using wire nuts. Be sure to follow the wiring directions for your specific fixture. Wrap the wire nuts with electrical tape to secure the connection. Carefully push all of the wiring into the junction box.
Feed the screw studs through the appropriate holes and attach the nuts to secure the light fixture to the wall.
Apply a bead of exterior silicone caulk along the gap between the fixture and the stucco wall. Moisten the tip of your finger and smooth the bead of caulk, making sure the bead fills all voids between the wall and the fixture. Stucco does not have a uniform flat surface, so the silicone will ensure the fixture is water-tight.