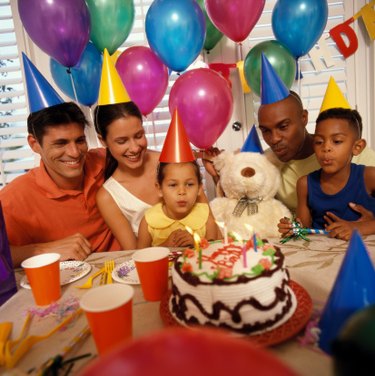 There are a multitude of birthday party options for little ones about to turn 4. A variety of things interest them at that age, and there are many new things kids can be introduced to in a festive party atmosphere. More and more businesses seek to increase revenue through offering party packages. As you run errands or read local publications, keep an eye out for possible locations to host an enjoyable celebration.
Educational
Look for local museums, zoos, aquariums or cooking establishments that host parties. Most major cities have children's museums. A variety of birthday party themes and packages are typically offered, along with entertaining programs presented by staff members that involve animals, science experiments or crafts. Creative cooking businesses allow young guests to learn to cook while being hands-on in the kitchen, and adults don't have to worry about cleanup.
Artistic
Let young guests be creative and artistic at a local paint-your-own ceramic or pottery shop. An art-related birthday party will let young guests enjoy expressing themselves. Each young party guest picks out a piece to paint. Some might enjoy putting their handprints on their selection. The pieces are then finished with a glaze and fired in the kiln. The finished artwork serves as a great party favor for guests to take home and share with their parents.
Recreation
Most gymnastics studios offer children's parties that provide a party room and instructors. Young guests might enjoy using various gymnastics equipment or playing games using a large, colorful parachute. Bowling alleys are another popular party place for kids, as are roller skating and ice skating rinks. Accompanying parents will enjoy spending time with their children during these activities.
Entertainment
Family entertainment centers provide an exciting party atmosphere where kids can play arcade games, go on rides, run through play houses and enjoy other attractions. Indoor inflatable centers are a particularly popular place for 4-year-old parties. Here little ones can enjoy bouncing, climbing and sliding down different inflatables for nearly two hours. Make sure guests know that socks are required. Local farms also welcome birthday parties and typically offer hayrides, farm animal petting zoos, play areas, gem mining and sometimes trains, fall corn mazes and other attractions.