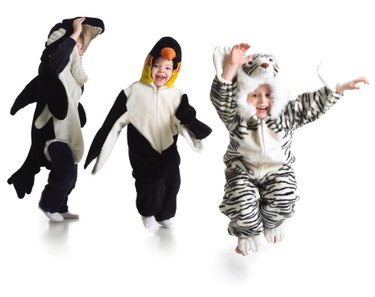 Sea creature costumes are fun to make whether you need a costume for a play, a costume party, or for Halloween. Even though sea creature costumes are creative and potentially complicated, you don't have to go to a costume shop and rent one. You can make these costumes from items you probably have around the house. If you must buy supplies, a craft or hobby store should have everything you need.
Jellyfish
You can make a simple but fun jellyfish costume with a clear plastic umbrella and iridescent plastic streamers. This is a great costume for cold weather trick-or-treating because you can bundle up as much as you need to underneath the umbrella, and your costume will even keep you dry. Just tape the iridescent plastic streamers to the umbrella so they hang down like jellyfish tentacles. For a little added sparkle, tape glow-sticks to the inside of the umbrella so your jellyfish body glows.
Mermaid
The trick to a mermaid costume is making your fin look like a mermaid's fin while still allowing you to walk freely. To overcome this obstacle, consider sewing a fin to one leg of a pair of pants, so it looks like the fin goes off to the side. Alternatively, you can make the fin out of stretchy fabric such as ribbed cotton or spandex so you can walk without taking tiny steps. Long wigs adorned with seashell hair clips are great accessories for mermaid costumes.
Octopus/Squid
The defining feature of octopus and squid costumes is the legs. You can create squid and octopus legs by stuffing nylons, socks or tights with polyester batting, or, for less floppy legs, you can cover "wet noodle" water toys with fabric that matches the rest of the costume. Make sure that you attach the legs securely to the rest of the costume because they will get jostled during the festivities.
Crabs/Lobsters
Crab and lobster costumes can be made with just a few special accessories accompanied by clothing that matches the color of the accessories. You can attach a couple of thick red or orange pipe cleaners to a headband for antennae. You can make a pair of crusher claws by making giant mittens out of craft foam. For a crab costume, cut out a bunch of legs from the craft foam and attach them to your torso area. For a lobster costume, make a fan-shaped tail out of craft form or cardboard, and let it flap behind you by attaching it with a ribbon or belt around your waist.