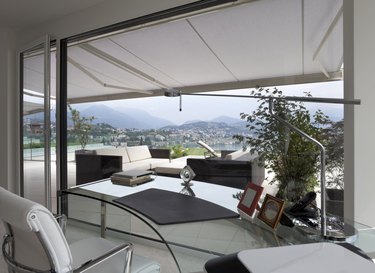 First called "Fiber A" by DuPont when it was researching ways to improve rayon fibers, acrylic polymer fibers were discovered by a scientist working for the company in 1941. DuPont intended to use these acrylic fibers under a brand name to replace wool yarns, but ran into production problems when spinning and dyeing the fibers that make the fabric. After the problems were worked out, the company's product became the go-to acrylic fiber for making sweaters in the mid-1950s.
Acrylic Fibers
Acrylic fibers come from acrylonitrile -- a petrochemical -- first made in Germany in the early 1800s. The textile industry defines acrylic as a fiber formed from acrylonitrile into a long-chain artificial polymer. When woven together to make fabric, acrylic fibers create a material with characteristics similar to wool -- supple and soft to the touch. Acrylic is created by a dry or wet-spun process and then extruded to form the fibers.
Fabric Characteristics
After acrylic fibers are woven into a fabric, the moisture control, elasticity and ability to hold its shape make it work well for all kinds of household fabrics. Acrylic wicks moisture away to the fabric surface, where it dries quickly. Beside its quick drying time, the fabric resists stains, wrinkles and ultraviolet rays. Acrylic fabric ages and wears well, and resists fungus, mildew and moths, making it ideal for indoor and outdoor use in the home.
Acrylic, Acrylic Everywhere
You can find acrylic fibers and fabrics in most anything from apparel to home furnishings. Manufacturers weave acrylic fibers into carpets, upholstery fabrics and more. In construction, it's often used as a replacement for asbestos and as reinforcement for stucco and concrete. You can also find acrylic in outdoor furniture and vehicle covers, along with awnings and luggage.
Around the House
Your patio umbrella and hammock are two of the first places you might find acrylic fabrics, thanks to its resistance to fading in the sun. But don't be surprised if you see the same fabric in blankets and pile sheets, in children's toys, rugs, and chair and couch cushions. The versatility of acrylic makes it work inside the home for decorative throw pillows and in the backyard as a portable canopy shelter for that summertime party.
Fabric Care and Cleaning
Before washing or cleaning acrylic fabrics, read the item's care label for specific instructions; manufacturers may have mixed in other fabrics and fibers, and even different acrylics. For delicate items, hand wash and rinse in warm water, and air-dry on a clothesline or indoor hanger. When machine washing, use warm water and a softener in the rinse -- washing can make the fabric pill or feel rough. You can dry acrylics in the dryer on a low setting and promptly remove them when dry.