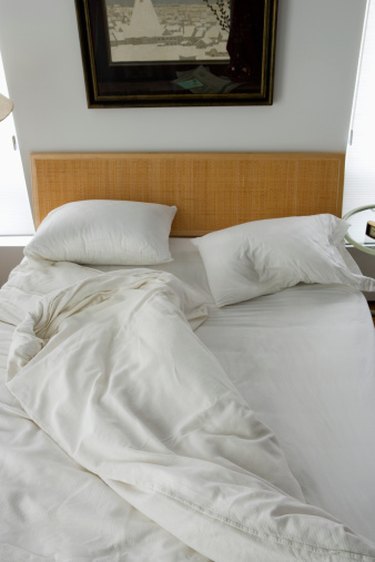 Duvet covers slip on over a comforter or duvet and help protect the surface of the blanket from dirt and damage. They also prevent feathers from poking out through the comforter. Choosing the correct size duvet cover ensures that your duvet will fit snugly inside without shifting uncomfortably during the night.
Mattresses are available in the following sizes: twin or single, double, queen, king and California king. Twin or single mattresses are also typically used for bunk beds and daybeds and are meant to sleep one person. Double beds are slightly larger than twin beds; they used to be the standard for couples but have been replaced by larger king and queen sizes. California king beds are longer and wider than even regular king size beds and are the largest regular size mattress available.
All regular bedding is sized to fit the corresponding size mattress; twin mattresses require twin sheets and comforters and so on. The bedding is designed to lay down over the edge of the mattress. Comforters are slightly wider than sheets, allowing the comforter to cover the sheet completely. Always purchase bedding in the same size as your mattress.
Duvets are similar to pillow cases in that they have one open end into which the duvet is inserted and then function as a protective and decorative cover for a comforter. Duvet covers are sized slightly larger than the average duvet dimensions to accommodate the thickness of the comforter. Always choose a duvet cover that corresponds with your bed and bedding size. Choosing the next up will cause the comforter to shift and bunch up inside the cover.
Water bed comforters are of different dimensions than regular comforters; they are typically smaller than regular comforters because they are designed to be tucked between the mattress and frame rather than hang down over the edge of the mattress. A size smaller duvet may be needed for water beds. There may be inconsistencies between manufacturers regarding exact dimensions; you may find that you will need a size up or down in these instances.